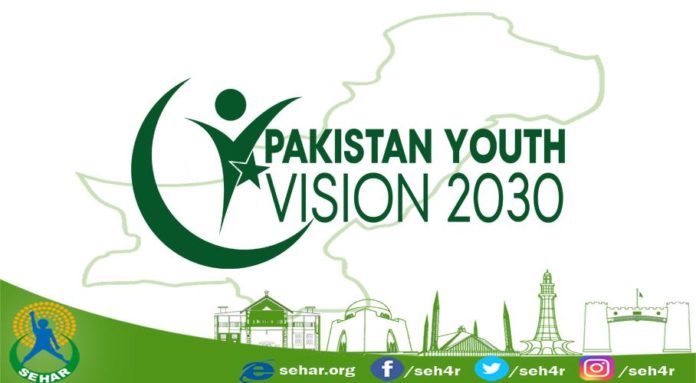 Islamabad: SEHAR institute held a national conference "Pakistan Youth Vision 2030" at Allama Iqbal Open University in collaboration with University. Conference is the part of data collection for a volunteer research to build a shared vision for the youth of Pakistan.
Prof. Shah Mahiuddin, dean of islamic studies, AIOU while appreciating the efforts, said that Pakistan Youth Vision 2030 is the need of time. We not only need to focus on education in Pakistan but we must also shine the light on cognitive upbringing. The true strength of the world lies in the promotion of knowledge. The need of the modern muslim is to build tolerance in themselves by accepting the challenge of differences in opinion. We have to pay attention to knowledge based economy if we want to coin our name in the world.
The project director and cofounder of sehar institute, Ms. Shafaq Sarfraz while addressing said that Pakistani youth needs to be brought out of confusion by formulating a strong vision for them to follow. The purpose of sehar organization is to give a clear vision to the youth.
Ms. Seemabia Tahir, the member of Tehreek e Insaaf, Punjab Assembly said that in the leadership of Mr. Imran Khan, the focus of government is on the youth. Punjab Government, under the scholarships of Tevta, has undertaken 1 lac new students. Also according to new act to be developed in the local elections going to be held in march, a new team of learned and knowledgeable youth will be brought forward. The vision of Imran Khan is to lift pakistani youth so that they can make their mark in the world. Professor Jamil Chitrali, Peshawar University and Ahsan Durrani Advisory board member KPK ask government to allow student Union and focus on the facilities to the youth.

Dr. Aun Mirza said that in youth, there is a lack of awareness in youth about mental and physical health. He commented that in addition to focus on education, we must also focus on mental health because a healthy mind is nourished in a healthy body. Also, a healthy mind has better level of tolerance and it can perform better its duty in the society.

Mr. Farhan Khalid, an entrepreneur argued that till the time our businesses rely on government policies, our economic growth will remain halted. In our country, most of the foreign reserves comes from freelancing. The need is to make our youth capable enough so that they participate in freelancing. The universities in our countries has failed the students in giving them proper set of skills. Every year, 4.4 million workforce is given birth, out of which most of the people are forced to work for foreign companies due to the reason that we aren't providing skills for the youth.

Raja Amir Iqbal, president RWP Chamber of commerce emphasize on formal business and economy, Ms. Mahwish Afridi an entrepreneur talked about the absence of policies for export of crafts that causing shrink of jobs for young woman, Dr. Naveed Iftekhar Planning Commission focused on easy business and strong institution he said that without functional and efficient economic institution the economic growth is not possible.
Seminar concluded remarks by HoD Education department AIOU Prof. Afshan Huma by the words that we need educational and social reforms followed by souvenirs distribution ceremony.