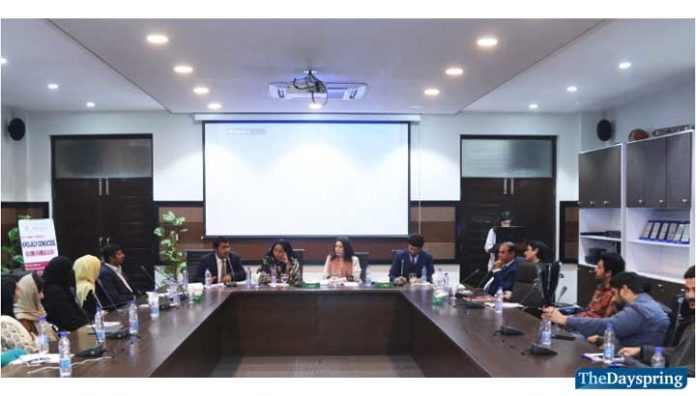 Our Staff Reporter/PR
LAHORE: On the occasion of the 28th Anniversary of Khojaly Genocide and in the framework of the Justice for Khojaly international civil awareness campaign the seminar on the commemoration of Khojaly victims was organized at Lahore University of Pakistan on 24 February 2020.
The seminar was co-organized by the Youth Advocacy Network (YAN) and the University of Lahore with collaboration and relevant support of the Eurasian Regional Center of ICYF (ICYF-ERC). Participants of the event were students, academicians and representatives of civil society organisations. Ms. Mommnah Asad, Communication and Research Officer of YAN and youth activist presented detailed information on Khojaly tragedy and activities pursued by the Justice for Khojaly Campaign since 2009.
The panellist Dr. Tehmina Aslam, Assistant Professor at School of Integrated Social Sciences shared that humanity needs to be on one page to struggle against aggression and war crimes to overcome security challenges and restore justice and peace in the world. Ms. Shahla Isayeva, representative of Azerbaijani diaspora in Lahore nominated by the Embassy of The Republic of Azerbaijan in Islamabad thanked the organizers of the event and mentioned that Pakistan is one of the most active countries raising on national level awareness on Khojaly Genocide. Mr. Zaman Bajwa, representative of International Kashmir Lobby Group stated that Khojaly will always be a constant source of pain in the conscience of humanity.
Mr. Fsahat Ul Hassan, Board Member of ICYF-ERC and CEO of Youth Advocacy Network said that international organizations, relevant international NGOs and civil society activists should not remain silent to injustice. The Khojaly tragedy should be accordingly addressed with a view of ensuring its legal and moral recognition by the international community.
In closing remarks, Dr Rabia Akhtar, Head of Department SISS University of Lahore appreciated the efforts of YAN, ICYF-ERC and Embassy of Azerbaijan for providing the opportunity to students to learn about other issues and tragedies in the Muslim world.