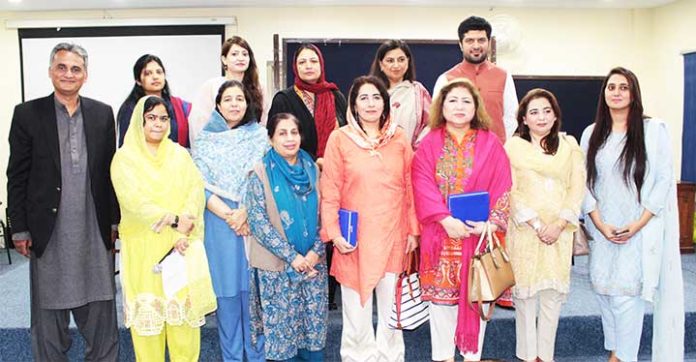 LAHORE: To highlight the issues and progress made regarding women protection and empowerment, a seminar titled "Female Politicians and Policy Making Regarding Women Empowerment" held in Lahore College of Women University.
Uzma Kardar (Chairperson Punjab Gender Mainstreaming Committee), Irfan Mufti (Deputy Director South Asia Partnership Pakistan SAP-PK), Sadia Sohail (MPA), Ayesha Iqbal (MPA), Fsahat Ul Hasan (Chief Executive Youth Advocacy Network), Seema Anwaar (Secretary PTI Women Wing Punjab) spoke during the seminar. Responding to a question, Miss Uzma Kradar assured her full commitment to an inclusive political system where women can claim maximum space. She, on behalf of PTI, committed to engage women from all spheres of society in her party. Later on Sadia Sohail (MPA) raised the concern over low participation of women in political system and urged election commission to come up with more extensive reforms regarding women participation. Seema Anwaar highlighted her party's efforts to engage women in all political and governmental positions. Fsahat Ul Hasan CEO, Youth Advocacy Netwrok stressed over the need of engaging global community and think tanks in the formation of women related laws. MPA Ayesha Iqbal agreed to raise such issues in parliament and will encourage and support the cause. Deputy Director South Asia Partnership Pakistan SAP-PK, Irfan Mufti encouraged the government and political parties to focus on rural women and their inclusion in mainstream political system. We can not move forward by ignoring a huge segment of our community that resides in villages, he argued.
The session was ended with a note of thanks to guests by Director of Social Sciences, Dr. Talat Hussain.