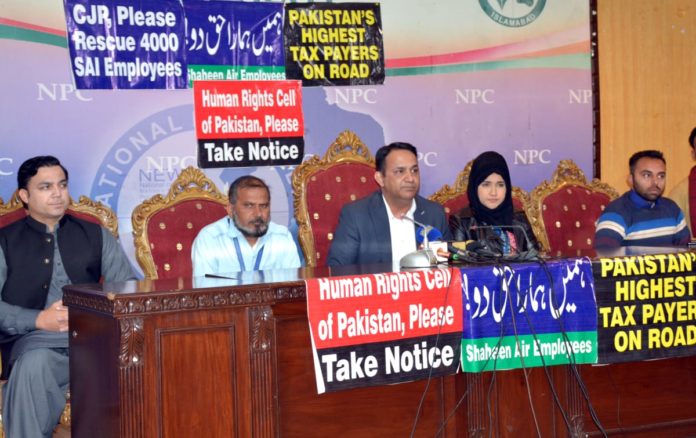 By: Junaid Qayyum Abbasi
ISLAMABAD: The employees of Shaheen Air International ( SAI ) had gathered at the National Press Club Islamabad on 6 Feb 2019 and demanded the revival of Shaheen Air International. They have sent a request to the PM to make the owners accountable through a Government formed committee for finding out the possibility of reviving the airline and also for finding the reasons behind its downfall. During a protest here at Islamabad Press Club, the Employees of Shaheen Air condemned the careless attitude of the SAI Management , who have not been able to make arrangements for the Salary of the Employees , which is pending now since 8 months. The CAA has ceased the operations of Shaheen Air and also its offices all over Pakistan. The protesters have appealed from PM Imran Khan not to let these 5000 employees become jobless. The CEO of Shaheen Air , Ehsaan Sehbai is in Canada and the Acting CEO Javed Sehbai has not been empowered to make the disposal of the Airline. The false hopes of the employees have died now as there were rumors that the airline has been bought by a Saudi Prince. The employees kept cool and believed in all these stories but now its matter of their survival. A Committee therefore; should be emergently constituted to call upon all the Directors / Share Holders outside and within Pakistan to come and inform about the status and future of Airline. They demanded from the PM that the committee should be headed by the Aviation Minister and should have members from FBR / CAA/ FIA/SECP / Min of Finance and Law Ministry. During the Press Briefing the ex Chief of Staff Shaheen Air Mr Mohsin Jamil while addressing the media emphasized that the Airline is a national asset , which has lived for 25 years and must be protected due to its vested capacity.
PIA has been given relief packages in billions of have become absconders and the management has been deceiving the employees but shaheen against a liability of 18 Billion has no relief available from the government side. The Airline should either be run by the existing owners or through legal process it should be given in bidding to a promising , well reputed buyer , who can take the airline with liabilities and save this national asset besides saving the homes of 5000 people. It was emphasized that with the vision of Naya Pakistan , PM Imran Khan has promised for 50 Million jobs. How can the government let these poor 5000 people lose their jobs instantly. It was demanded that besides bringing back the owners from Canada, the Acting CEO , Javed Sehbai and other Directors available in Pakistan, being the share holders of the airline should be called upon for immediate resolve of the matter. The Ministry of Finance should also administer a forensic audit of Shaheen Air to find out about the reasons of its debts and losses.