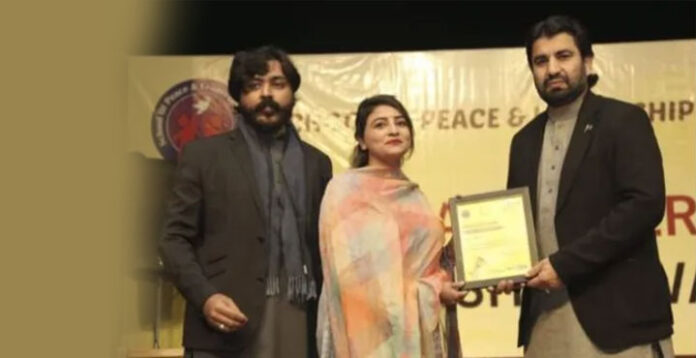 KMS/TD WEB DESK
RAWALPINDI: In a ceremony held in Punjab Arts Council, Rawalpindi, Pakistan's first Sikh female journalist Manmeet Kaur was among others who received Peace Achievers & Leadership Award.
Ahmad Raza Khan Kirmani, CEO of School of Peace & Leadership Studies, said that he had taken the initiative of School of Peace & Leadership Studies in 2019 with the aim to acknowledge, appreciate the talent, achievements and excellence in performance in peacebuilding social welfare & interfaith harmony and human rights.
Speaking on the occasion, the chief guest of the award program, Qasim Khan Suri, Deputy Speaker of National Assembly, also appreciated the Peace Achievers & Leadership Award Achievers & Leadership Award Programme and said that encouragement, and appreciation is essential in the society to promote good work and development. He said that the awards programme must be supported and continued to welcome the high achievers and to hghlight their achievements for encouragement and motivation for the people to work for excellent in their life.
Following youngsters won the Peace Achievers & Leadership Award 2021:
Pakistan first female Sikh journalist, Manmeet Kaur, Nisha Kaur, social activist, Alisha Sherazi and Faizi Transgeder activist, Sarim Hussain, Moiz Shaukat and Ali Mustafa.
Differently-abled Humanitarian athlete, Samiullah from Chaman, Masood Khawaja, actor, Laila Jatti, singer, Anjum Habib, Naveed Ahmad, Dr. Hafiza Khan, Raheen Fatima, yougest entrepreneur and others.