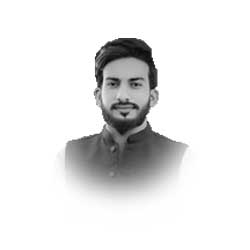 By: Sheeraz Mirani
Time repeat Itself Most of the time in the history of the world but humen nature is to forget all the lessons of past and go ahead without any purpose of our life as like animals do. peoples of the world say that we are living in 21st century but frankly speaking it seems to me many of the times as the people of sindh are living in the 15th century because of in determined politicians' attitude towards the people of Sindh. Our society is immensely paralyzed by these supposedly competent politicians who govern the regime along with their corrupt bureaucrats in reverse gear securing only their interest.
Money and the corruption are rising the land, crocked politicians betray the working man, pocketing the profits and treating us like sheep, and we are tired of hearing promises that we know they'll never keep. Ray Davies
Let it to be clear that we all are unwillingly chained in the web of "bhutoism" and do not know when we will be free from the from this un given loan of people's party and this web is a harshly going to be a red and stronger more day by day with the blood of people and they have looted the resources of sindh it a huge level. Generally other parties like PTI, MQM or PMLN have not had as much harm to the economy of Sindh as (PPP) has exploited the resources and institution throw mass corruption. Resultantly, there is the bad governance in every sphere of life. It is our truth of time that our MPS and MNS who are enjoying the flight mode in the political environment they are not capable of what the opportunity all knower has given them to see the people at Grass root level with true heart.
Fully conscious of this fact that there is the turmoil within Sindh politics is at its worst. Economy is in the nosedive. Corruption is curse amongst Muslim society dishonesty, Temptation, cheating now almost each institution, target killings, kidnappings for some ransom droughts and rising health issues like malnutrition in tharparkar. Poverty has been still one of the greatest challenge today depreciation and deprivation are on the rise. The unemployment is rising rapidly the huge population explosion is further aggravated the situation. As if a people's lives and property is unsecured. Government miserably has fail to provide the fundamental rights to the to its citizens. That is the reason that justice has been disappeared from our society, all these burning issues have bankrupted our society. But yet no concrete steps have been taken by this prolonged government. we are all namely Muslims but our deeds reflect our Evil face in the mirror of truth.
it would be, however right to assume that almost every institution is performing its duty in contrast, civil Employers are not paid for performing their actual duties but what the politician's demands possess in their interest, expect certain number of politicians and bureaucrats who perform their duties with the loyalty having faced hindrances. Brave sons of souls who are always ready to sacrifices for the nation.
On the basis of above discussion it can be asserted that it is still time for them to think  about poor souls of Sindh and reinforce the law and order situation seriously and eliminate the rising seed of corruption, start not from others or institutions but first start with own slaves and it is of course possible, when we truly believe in Allah almighty and as extreme fear which may have awake in our heart because he always sees us having done every evil deed. Furthermore a resource-rich like Sindh can easily overcome these issues but it needs a strong political will commitment and devotion. A target oriented of realistic uniform and practical approach is the need of the hour. Setup the reforms in the civil bureaucracy and political manipulation in efficiency. We need change for sake of our posterior generations, otherwise next 70 years shall have been passed but the situation will be handless as and history will never forgive us.
The writer is a student of Department of International Relations, University of Sindh, Jamshoro. He can be reached on [email protected]