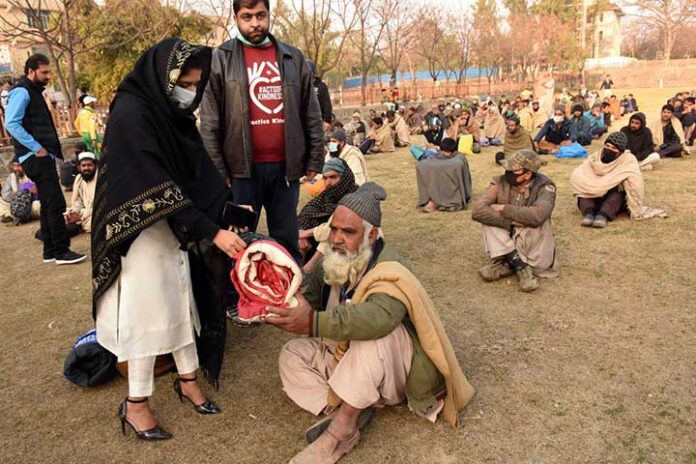 By: Asem Mustafa
They are old and they are faced with the dilemma as how to keep themselves warm during the wintry and windy nights.
The picture states many a things firstly the deliverance of sleeping bags to the needy is a commendable gesture but at the same time the picture also depicts that it is more like a photo session.
The photo session is done only for the sake of publicity and for the records to give details to either donors or for a false impression to gain favours.
On a critical note the exercise done was nothing but a publicity gimmick. The hushed up poor all sitting in fear, gathered to receive the 'sleeping bags' leaves a big question mark as why and for whom the exercise was done.
Land of the pure owing to corrupt practices has stories that bleed the heart. Nothing could be done as the people at the helm of affairs make enough hurdles in taking away the credit.
The government official is distributing the sleeping bags to the poor in broad daylight and how these 'deserving' poor were gathered is a question that will never be answered.
Apart from the old man with the beard rest everybody in the picture is young and strong. The question arise what was the 'motive' behind the photo shoot in the Sector G-9 of Islamabad the beautiful.
There are a lot more people who still sleep in the open and they can be found if one takes a round of the market. Handing them the bags along with a hot meal during the night would have been better as the savior in disguise would have ended up with prayers.
The photo shoots now a mandatory session of government and opposition leaves a lot to be desired as it is government money which is doled out.
To date the philanthropic work from the politicians are awaited as the only thing the ruling elite is good at both government and opposition is making photo sessions and announcements.
The only exception in Pakistan political front is that of sitting Prime Minister Imran Khan who promised 'cancer hospital' and made it come true in actual existence.
Sadly the current trend that is seeping in government and other offices is the speed for the photo session which is for showing the performance.
All this is done on the name of the poor and not many poor get the benefits as the real reaping is done by the people who have other 'motives' for making the exercise.
The picture is worth a thousand words and hopefully the current trend of laughing off at the poor will be curtailed and real work would be done to help the have nots.