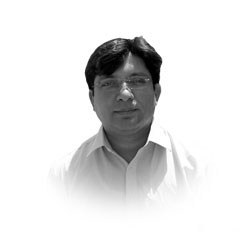 By: Zeeshan Javaid
Spinal muscular atrophy (SMA) is an inherited disease that affects nerves and muscles, causing muscles to become increasingly weak. It mostly affects infants and children but can also develop in adults. Symptoms and prognosis vary depending on SMA type.
Approximately 10,000 to 25,000 children and adults are living with SMA in the United States. It's a rare disease that affects one out of 6,000 to 10,000 children.
Strive Trust is a non-profit civil society organization working to improve the quality of life of differently-abled persons (DAPs), commonly known as persons with disabilities, headed by Muhammad Yasir Khan, himself victim of Spinal Muscular Atrophy (SMA), a rare neuromuscular disease, which had no cure till four years back, Strive Trust is working for a world free of disability.
In an interview with Mr. Khan, it was revealed that about 60% of people with SMA have a severe type also known as Werdnig-Hoffman disease. Symptoms appear at birth or within an infant's first six months of life. Infants with this type of severe SMA have difficulty swallowing and sucking.
The Cooperative International Neuro-Muscular Research Group (CINRG) in its research revealed that these patients don't meet typical milestones like holding up their heads or sitting. As muscles continue to weaken, children become more prone to respiratory infections and collapsed lungs. Most children with type 1 SMA die before their second birthday.
The research paper further read as about six million only Americans (1 in 50) carry the mutated SMN1 gene. These carriers have one healthy SMN1 gene and one missing or defective SMN1 gene. Carriers don't develop SMA. There's a 1 in 4 chance that two carriers will have a child with SMA.
Symptoms of the second type of SMA also called Dubowitz disease appear when a child is between six months and 18 months old. This type tends to affect the lower limbs. Children with type 2 SMA may be able to sit up but can't walk. Most children with type 2 SMA live into adulthood.
Mr. Yasir Khan believed that Symptoms that another kind of SMA named Kugelbert-Welander or juvenile-Onset which have mild effect appears after a child's first 18 months of life. Some people with type 3 don't have signs of disease until early adulthood.
He said that SMA symptoms vary depending on the type. People with SMA experience a progressive loss of muscle control, movement and strength. Muscle loss gets worse with age. The disease tends to severely affect the muscles closest to the torso and neck. Some people with SMA never walk, sit or stand. Others gradually lose their ability to do these actions.
A senior Neuro-Physician Dr. Sadia-Bint-e-Ashir informed that the disastrous SMA disease can be diagnosed with help of four different medical tests including an enzyme and protein blood test to check for high levels of creatine kinase, Genetic Test to identify problems with the gene is 95% effective at finding the altered SMN1 gene, Nerve Conduction Test an electromyogram (EMG) measures the electrical activity of nerves muscles and nerves and Muscle Biopsy involves removing a small amount of muscle tissue and sending it to a lab for examination. A biopsy can show atrophy or loss of muscle.
'These medical tests facilities are indeed available in Pakistan but rarely because of non-availability of SMA contracted patients' data and lack of awareness about this disease among the general public and even policymakers of health department', she maintained.
She further said that during pregnancy, prenatal tests can determine if your unborn baby has the disease, adding 'these tests to diagnose SMA symptom in pregnant woman including Amniocentesis and Chorionic villus sampling (CVS) may slightly increase the risk of miscarriage or pregnancy loss.
International Nuero-Muscular experts unanimously agreed that generally there isn't a cure for SMA but the treatments depend upon the type of SMA and symptoms. Many people with SMA benefit from physical and occupational therapy and assistive devices, such as orthopedic braces, crutches, walkers and wheelchairs.
Some sort of drugs now available in the market after thorough research on SMA globally including Nusinersen (Spinraza®) for children ages 2 to 12. The provider injects the drug into the space around the spinal canal. Similarly, a different medication, Risdaplam (Evrysdi®), may help adults and children older than two months.
Children younger than two may benefit from a one-time intravenous (IV) infusion of a drug called Onasemnogene Abeparvovec-xioi (Zolgensma®). This therapy replaces a missing or faulty SMN1 gene with a functioning gene.
Mr. Khan believes that Spinal Muscular Atrophy (SMA) is a treatable disease in the developed world since December 2016, as Spinraza was the first drug that got approval from FDA in December 2016 for the treatment of SMA followed by gene therapy of Novartis in May 2019, and Evrysdi of Roche in August 2020.
He said that all these drugs are life-saving with excellent efficiency but unfortunately, none of these treatments are available in Pakistan yet.
The government of Pakistan recently approved a newly discovered drug "Evrysdi"- a medicine used to treat SMA.
The drug costs a patient around $ US 340,000 per year. Other treatments available include gene-therapy by Novartis where, their injection named Zolgensma costs British pounds 1.7 million per dose. The treatment was labeled the most expensive drug in the world.
He demanded from international donor agencies, health experts and especially pharmaceutical companies to ensure the availability of these drugs in Pakistan at affordable prices, at the same time he also requested from the government to bring these treatments to Pakistan and expedite the process of approval without wasting more time so precious lives could be saved.
The writer is a journalist based in Islamabad. He can be reached at [email protected]