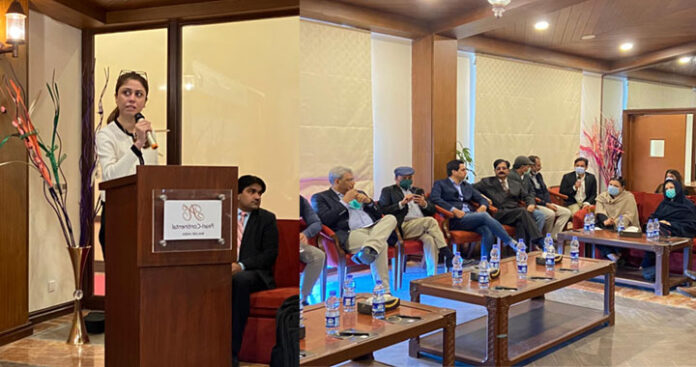 By: Asim Nawaz
MALAM JABBA, SAWAT: Tobacco industry is ruining the future generations by using different tactics to attract children and youth towards tobacco use. In Pakistan, children who start smoking daily is alarmingly high i-e 1200 children per day and sustainable efforts are required to save youth from hazardous effects of tobacco. This was the crux of a session that aimed at discussing; the way forward and the need of collective efforts to limit the number of tobacco users in Pakistan.
The session was organized by Society for Protection of Rights of the Child (SPARC) at a local hotel on Thursday.
Falak Raja, Chairperson, BoDs SPARC said that tobacco consumption among youth in Pakistan is unacceptably high and their use of this addictive product is harming their mental and physical health. The tobacco control activists in Pakistan are striving to raise awareness that tobacco consumption is not just a health issue. It has serious repercussions on poverty and economic stability, child development, child education and child labour.
Addressing the participants, Malik Imran Ahmad, Country head Campaign for Tobacco Free Kids (CTFK) said that tobacco control policies must be sustainable to create a meaningful impact. He shared that on average, in Pakistan, smokers spend 10% of their average monthly income on cigarettes. Due to this expenditure, people are left with less money available for essentials such as child nutrition and education. He mentioned that raising tobacco taxes is a proven policy to help reduce tobacco consumption as per the WHO and World Bank recommendations. Unfortunately, cigarette taxation in Pakistan is among the weakest in the world, and this makes them inexpensive and affordable for youth. He urged the government to adopt a National Tobacco Control Policy and strengthen tobacco control cells for effective monitoring and implementation of tobacco control laws.
Khalil Ahmed, Program Manager, SPARC, shared alarming facts of consequences of tobacco consumption on the health of Pakistanis. According to 2017 World Health Organisation Report, over 163,000 people died from tobacco related diseases in Pakistan in 2017. He added that this health burden is particularly affecting the young population. Around 1200 children between the ages of 6 and 15 start smoking in Pakistan every year. He mentioned quoting Pakistan Health Research Council that tobacco consumption costs the country PKR 192 billion health burden due to tobacco-related diseases and lost productivity whereas in comparison, the revenue generated from tobacco taxation is only PKR. 115 billion.
In concluding remarks Ch. Sana Ullah Ghuman, Secretary General, Pakistan National Heart Association (PANAH), said that Pakistan's present as well as future depends on the survival, protection and promotion of rights, and development of its children. The government must recognize that tobacco is a major threat to our children and we will show our full commitment for this cause. The government needs to remain steadfast to overcome any challenges thrown by the big tobacco industry in order to safeguard Pakistani children from harms of tobacco.