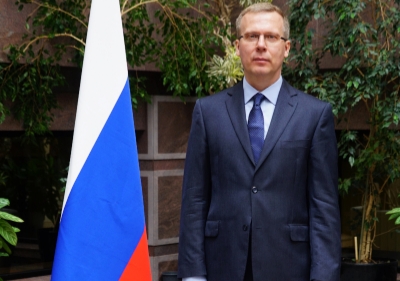 Message by H.E. Mr. Danila V.Ganich,
Ambassador of the Russian Federation in Pakistan
ISLAMABAD: The Day of Russia is one of the major national holidays of our country, our Russia that we love and take pride in. It dates back to June 12, 1990, when the "Declaration of State Sovereignty of Russia" was proclaimed. Celebrated annually it symbolizes the unity and fraternal friendship of many peoples building together their future within one Federation. On this day we traditionally honor our homeland – a country with centuries-old historical and cultural traditions and rich heritage.
The National Day marks the important values of unity and patriotism. It is both a mark of our past and reminder for our future. Today we pay tribute to our predecessors for their glorious deeds laid the foundation of what we are now today – a strong and independent country, blessed with vast territory, rich natural resources and multicultural people who live in harmony within one Fatherland.
Russia is a multinational state with around 185 ethnic groups and more than 100 languages spoken. The majority of Russians identify with Orthodox Christianity. However, our country is multi-religious – Christians, Muslims, Buddhist together with other religions live in one state as brothers. The population of Muslims in Russia for example is estimated more than 20 million people. In Russian Crimea only live about 250 thousand Muslims.
Russia is one of the biggest global economies, leading in science and technology, having a permanent seat in the UN Security Council and also playing a major role in the Shanghai Cooperation Organization, Commonwealth of Independent States, Collective Security Treaty Organization and G-20.
The Russian Federation implements and will continue to implement a balanced, pragmatic and proactive foreign policy aimed at building just and democratic world order, ensuring peace, strategic stability, equal and indivisible security. We are interested in transparent environment in order to promote cooperation with all partners in the West and in the East. In other words, building relations with Russia means working together to find mutually beneficial solutions to the most complex matters, but never to impose them.
It is therefore vital for us to consolidate cooperative ties with other responsible States both on bilateral basis and in the framework of international organizations to address the global threats of terrorism and extremism, illegal drug trafficking and trans-border crime as well as to promote regional connectivity, mainly by creating a system of modern and well-connected transport corridors.
On 1st of May, 2019 Russia and Pakistan celebrated the 71st anniversary of diplomatic relations. Pakistan is a valued partner for Russia, which significance is determined by its role in regional politics, its influence in the Muslim world and its geostrategic position. It shares our aspirations and values and possesses unique experience in combating terrorism and huge transit capabilities. The potential of our partnership was significantly advanced when Islamabad became a full-fledged member of the Shanghai Cooperation Organization (SCO) in June 2017.
We maintain dialogue with our Pakistani partners on a wide range of issues of regional and international agenda through relevant consultative mechanisms between the Foreign Ministries of the two states. Our countries cooperate on multilateral platforms, first of all, in the UN and its specialized agencies. Moscow and Islamabad are united by the aspiration for a multi-polar world order, respect for international law, denial of attempts of interference in domestic affairs of sovereign states including those under humanitarian pretext. We value the support that Pakistan gives to such Russian priorities in the UN as international information security, transparency and confidence-building measures in outer space and combat against glorification of Nazism.
During the recent years, the cooperation between the two countries in the sphere of trade and economic relations has gained some additional impulse. In 2018 the bilateral trade turnover has increased by 35.4 percent (up to USD 732.4 million), mainly due to growth of export by 60.5 percent (up to USD 418.8 million) with increase of import by 12 percent (up to USD 313.6 million). Definitely, such trade amount still does not correspond to potential of economic cooperation between Russia and Pakistan. Various impartial factors have been affecting our links, including geographical distance and existing financial counterclaims between our countries related to the Soviet period.
Both our countries are bound by strong ties of friendship, cooperation and mutual understanding based on mutual respect and partnership, desire for multi-faceted and equal cooperation. Russia is committed to further promotion of political dialogue with Pakistan, which is in the interests of peace and security of the region.
I would like to extend my congratulations to all our numerous friends here, in the Islamic Republic of Pakistan and express my sincere gratitude to them for their feelings of friendship and support they provide the Russian Embassy.
Happy Russia Day!