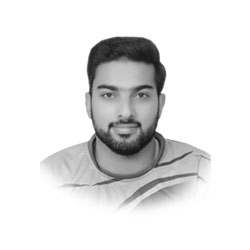 By: M. Asad Ullah
Minorities play a significant role in the progress of a state. No state can move ahead while setting its minorities aloof from its matters. The minorities are supposed to participate in every sphere of life. It's worth noting that the minorities of Pakistan take part exceptionally well in their fields. Be it politics, sports, showbiz, military, judiciary, academia, or any other field. Pakistan has acknowledged their services and revered them with different national awards; Nishan-i-Pakistan, Halal-i-Jur'at, Halal-i-Imtiaz, Sitara-i-Imtiaz, Sitara-i-Jur'at, etc. Pakistan is among those countries where minorities have been making the whole nation proud, however, due recognition to them in the textbooks is yet to be given.
While addressing the nation, armed forces, and several other places, one thing Quaid-e-Azam Muhammad Ali Jinnah always reiterated, "We will treat minorities with justice". Quaid's pledge to minorities is not yet fulfilled in a true manner. In the pursuit of knowing the real causes behind the demeanor of our society, we would also be looking upon other aspects. If one wants to unveil the conspicuous role of minorities in the history of Pakistan, then he/she will compel to write a plethora of pages to do such a colossal task. The raison d'etre writing this piece is to divulge the services of a few preeminent [minority] personalities.
Alvin Robert Cornelius ( renowned as A.R. Cornelius 1903-1991) was a Pakistani Jurist and served as the 4th Chief Justice of Pakistan. He was conferred with Halal-i-Pakistan upon his extraordinary services to Pakistan. He's one of the finest judges to have served in Pakistan. In history, he is also renowned for the Tameez-Uddin Case where he alone gave a dissenting opinion and contented, "Pakistan is verily a free and independent country, and her assemblies can't be dissolved under the [colonial] act of 1935". Unlike his colleagues, he strove hard to thwart the doors opened for dictatorship. Only a few of us know about his valiant initiative. The worth noting aspect is that in our textbooks there is no mentioning of his unflinching support to democracy. Justice A.R. Cornelius isn't the sole example of this repudiation, there are too many others.
Sir Zafarullah Khan was a renowned Pakistani Jurist and a diplomat. When it comes to textbooks, we only found him to have been the first foreign minister of Pakistan. He was the first Asian and the only Pakistani to have presided over the International Court of Justice. He had also served in the United Nations as the President of the UN General Assembly. Other than his political career, his accomplishments are yet to be written in the textbooks. Moreover, Dr. Abdus Salam, one of the finest physicists of the 20th century. He was not only the first Pakistani but also the first one to become the Nobel Prize Laureate among Islamic countries. He was the founding director of SUPARCO and reckoned as one of the proponents of "Pakistan's Nuclear Program". Dr. Abdus Salam was revered and recognized by and large in our country. As there are many departments and institutes named after him, however, the noticeable event was when the then PM Nawaz Sharif had taken a bold step to have named the Department of Physics of Quaid-e-Azam University as Abdus Salam Centre for Physics. But, the right-wing didn't welcome his dauntless initiative and protested intensely onto his harmonized endeavor.
When it comes to the 1965 war, the majority of the Pakistanis take pride that our forces extraordinarily defended the country against a much bigger enemy. However, a few Pakistanis know about some other heroes. Major General Akhtar Hussain Malik (henceforth MG Malik) was commanding the 12th Infantry Division and Operation "Grand Slam" in the second Indo-Pak war. For his overwhelming handling of the operation, he was honored with the Halal-i-Jur'at, the second-highest courageousness award of the Pakistan Army. He was about to take over Akhnoor to pave the way of taking Srinagar, the capital of Kashmir, however, he was inadvertently removed from the command, and General Yahya Khan replaced him. All of a sudden, he ( Yahya) turned all the success into a failure that he (MG Malik) had got. Zulfiqar Ali Bhutto aptly put, "Had General Akhtar Malik not been obstructed in the Chamb-Jaurian Sector, the Indian forces in Kashmir would have suffered solemn reverses, but Ayub Khan wanted to make his favorite, General Yahya Khan, a hero".
Sixth September ( Defense day) is approaching, it always reminiscences us of the heroism of Major General Eric G. Hall (the Heavy Hitter), Peter Christy, Cecil Chaudary, Mervyn  Leslie Middlecoat, Lt Danial, and etc. All the aforesaid names have been awarded respective rewards ( Halal-i-Jur'at, Halal-i-Imtiaz (HI), Sitara-i-Jur'at). Numerous other soldiers who belonged to distinctive communities fought for Pakistan in a time of urgency.  There have been several others who through their potential made the whole nation proud. If I neglect the name, Jamshed Marker (HI), then it would be unfair and a deplorable act to his services. He served thirty years as an ambassador in 10 different countries (more than anyone else) which earned him a place in the Book of Guinness World Record. In Our textbooks, there is no mentioning of them. They are worthy of being recognized of their services, and some portion of our textbook must be dedicated to them. How come our textbooks excluded these valiant sons of the nation. No material thing can reward one's life which is offered in the way of protecting the motherland. Are we forgetting their services or altering the history? How could our Pakistan studies textbook be completed while there is no room for other communities? These pertinent questions demand the state to treat them in an all-encompassing manner.
The worth thinking questions are; why don't they get due recognition? Have they remained unrecognized throughout history? Is the major chunk of a society unwilling to give them some space in the textbooks? To answer the aforesaid questions, we need to give a look at retrospect. When one sees history objectively, then he/she gets to see that before the 1980s, they would be revered according to their services. Undoubtedly, Pakistani has been having an identity crisis since its inception. However, in the 1980s, it has been observed that how the society got radicalized, and hatred for other credos had been inoculated in the minds of masses. The altered curriculum inculcated hatred, intolerance, disrespect to other beliefs. Islam had been used as a unifier of the nation at the birth of Pakistan, however, some overzealous people misused Islam and intensified resentment among different clerics within Islam. It left drastic impacts on society and as a corollary, Pakistan drifted into fanaticism. It is believed that prior to the 1980s MG Malik and others would be recognized and mentioned in the textbooks. However, the epoch (the 1980s) turned out to be an irredeemable loss to the cause of nation-building. 
The hostility towards other faiths didn't end, rather, it got intensified over time. We have seen the plight of rural Sindh where forced conversions have been taking place for decades. We have beheld the Christian community to have suffered from suicide bombings, mendacious allegations of blasphemy, etc. If we look at the causes why minorities are subjected to aggression? Why violence is so rampant and permeating against other communities? The sole answer is the inculcation of hatred against other communities and lacking to mention of them in the textbooks. Whether we like it or not, but we need to revisit our curriculum.
The state of Pakistan strove hard for inter-faith harmony, but couldn't achieve much success in it. Nevertheless, our state has been endeavoring to mitigate sectarian and ethnic differences. Numerous conferences and seminars are held for the cause of inter-faith harmony, however, it won't be adequate enough to deal with the predicament. Firstly, we need to mold societal behaviour towards other communities. In doing so, first, we should reconsider our curriculum in which we have to highlight the significance of their (minority's) services. Make all the students illuminate of their services and inculcate the lessons of inter-faith harmony. There are numerous things against the whole community in our textbooks which are supposed to be rectified. Instead of teaching students that Hindu Pakistan Banane Kay Khilaf thae ( Hindus were against the making of Pakistan), we ought to rephrase the line that the Hindus/members of Indian National Congress were against the making of Pakistan. The action done by a small segment can't allow holding the whole community responsible for that. Likewise, all these kinds of things (which may provoke ethnically & communal violence) written in the textbooks must be extricated or rephrased. Pakistan has to embrace Chanakiya Kautalyia, Raja Porus, Raja Ranjeet Singh,  Sir Ganga Ram (Father of Modern Lahore), Bhagat Singh, etc. They were the sons of this soil so must be owned by the motherland.
The incumbent government has a great opportunity to do so. They have launched the Single National Curriculum (SNC) throughout Pakistan. Even though SNC is debatable, however, they can do the least is to revisit the textbooks so that we could eradicate the anti-Hindu sentiments. To the extent of students, it will help them understand the sense of oneness, but to general masses, it will require some more actions; punitive actions should be taken in case of disrespect of their (minorities') sacred entities and place of worships. In Pakistan, there are laws regarding minorities, however, the core concern is implementation. Now, the govt has to ensure the implementation of laws.
A Couple of days ago, some pugnacious persons carried out a nefarious act at Rahimyar khan where they vandalized the temple and coerced the people. The worth noting thing is our PM took notice of this abysmal crime in no time. The culprits were held responsible and met with due process. Prior to this, the federal government proclaimed, to build a temple for the Hindu community in the Capital, and the reconstruction of the vandalized temple in Karak. The Hindu community must have realized that their right to profess religion is preserved in Pakistan. One of the core concerns of the Hindu community is to restrain forced conversions. This is a matter of great concern because we are yet to see the laws and their implementation over the masses. In Sindh, Pakistan People's Party (PPP) has been in power and incessantly ruling the entire province for 13 years. The self-proclaimed Liberal party PPP hasn't taken extraordinary initiatives for this cause. At times a few bills have been proposed in the Sindh assembly, but couldn't get passed. In 2019, the Sindh assembly dismissed a bill criminalizing forced religious conversions. It was the second attempt at legislating an anti-conversion law in the province. It is believed the majority of the landlords and feudal segment of Sindh belongs to PPP, so How could one expect to see such motions to be passed in the assembly where the patrons sit. Whatever the reason is now PPP must behold its manifesto and work on its deficiencies.
If we want to see Pakistan as an egalitarian society, then we must adhere to pluralism. Pakistan can only become a pluralistic state when its minorities' rights, freedom, recognition would be protected.  Due recognition to the minorities in the textbooks is an exigency, and we can ill afford to stay quiet in this regard. We need to devise our curriculum in such a manner that will ensure harmony among us and give space to our national heroes regardless of their religion, creed, race, and ethnicity. We can defeat the radical mindset by inoculating tolerance, peace, interfaith harmony to our children. In the Nation-States, the individuals pursue the interests that suit the nations rather than the religions, so our minorities are doing the same. Now, it's up to us whether we look at their services through the prism of patriotism or skepticism. There is a famous quote "The present shapes the future", so today is the time to decide whether we need an egalitarian society or a radicalized one.
The writer is a blogger and student of International relations at NUML and can be reached at [email protected]
The opinions expressed in this publication are those of the author. They do not purport to reflect the opinions or views of the 'The Dayspring'