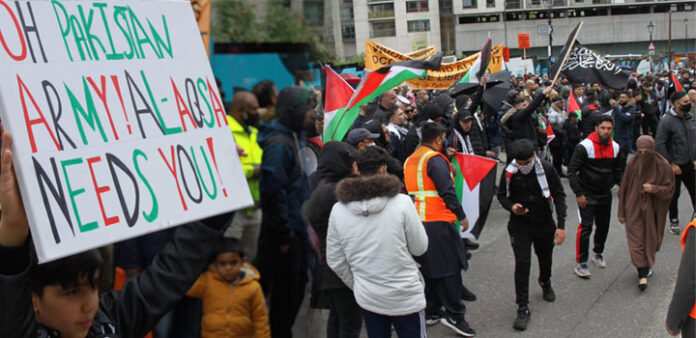 By: Adil Abbasi
BIRMINGHAM: Protesters gathered outside the Pakistani Consulate on Sunday afternoon to express solidarity with Masjid Al-Aqsa and Palestine organised by Hizb Ut Tahrir. A large crowd marched from all over England waving flags and chanting 'Al-Aqsa calls for Armies'.
The large Car convoy from Burton On Trent also traveled to the Pakistan Consulate in Birmingham to join the demonstration.
Thousands of protesters attended a solidarity march on Sunday 16th May 2021 and demonstrated in front of Pakistan Consulate Birmingham and holding placards reading "Ummah roars and the leaders squeek" and "stop the massacre". The massive turnout showed people's support for the plight of the Palestinians after an increase in violence/terrorism by Israel calling on the Islamic rulers especially Pakistan to take "immediate action" to support the people of Palestine amid the ongoing conflict with Israel.
Organisers of the march in Birmingham have called on the Pakistan government to act to help end what they called the "brutal" violence against the Palestinian people.
According to the press release issued by the organizers after the demonstration they said 'the oppressive occupation of Palestine by the Zionist entity is only possible with the collusion of the Arab and Muslim regimes. They have signed contracts and cooperation treaties with the occupiers and they have even aided and allowed the colonialist aggressors to establish bases in our lands'. They demanded the Muslim countries should end diplomatic ties with Israel and also urged Pakistan government and military leadership should lead the way and do every thing to stop this oppression.
Talking to the day spring, Asir a Pharmacist said, proud to speak to show support for our brothers and sisters of Palestine at the #FreePalestine protest at Birmingham.
One of the organizers while talking to the dayspring said, Palestinian people are having their land seized … and they are now being killed in their homes. "All of this is brutal."
Speaking to the 'The Dayspring', Hussain, One of the protestors said, World must stop allowing Israel's brutal violence against and oppression of the Palestinian people to go unpunished. The bombardment of Gaza which is killing civilians including children is a war crime.
"This is not a war, it's genocide," said Mubashir Abbasi a businessman of Pakistani origin.
According to health officials, since Monday, Israeli air and artillery strikes on Gaza have martyred 139 people including 39 children, and wounded 1,000 more.
Palestinian armed groups have in their defence fired rockets at Israel since, killing 10 people, including a child and a soldier. More than 560 Israelis have been wounded.