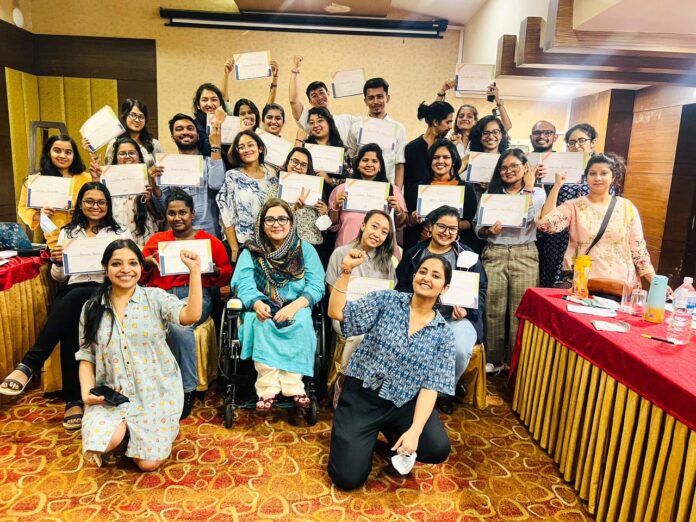 Intl. Desk
Three Human Rights & Health Advocates from different provinces of Pakistan represented Pakistan in an International Youth Advocacy Training Institute in Kathmandu, Nepal. Youth advocates from 8 countries were selected to be a part of this Youth Advocacy training Institute. These three represented, the Pakistan Advocacy Network (PAN) which is a strong network of experts, who have been serving to groom the young generation to understand the importance of knowing Reproductive Health, well-being, and rights and also connecting youth with the authentic youth-friendly health services that are available all across Pakistan both In-Person and in Virtual Spaces. PAN's objective is to ensure the availability of complete and correct information on health Rights among people with a focus on young and vulnerable people. To increase the availability of evidence-based, scientific & culturally appropriate information.
Joshua Dilawar is from the Institute for Social and Youth Development, National Focal Point of Y-Peer Pakistan, Member of Prime Minister National Youth Council from Lahore Punjab.
Naina Samson is the CEO of Ethan Consultants and a Minority's Rights Activist from Peshawar KP
Zargoona Wadood Working with Inception UN (World Food Programme) from Quetta and is Disability Rights Activist.
Joshua Dilawar actively presented the report on the present situation in Pakistan regarding Gender Equality and Reproductive Health, also added how Pakistan Advocacy Network is actively making great efforts to create equal opportunities through youth for youth in these areas including young people who are differently-abled. He also highlighted the progressive work of the Prime Minister's National Youth Council and ISYD Pakistan, particularly on youth, health, wellbeing, and rights.
Zargoona raised points about how people with special needs are still neglected while highlighting their disability, particularly if we talk about their health and wellbeing. She added how there is still a need for the government to take steps for more inclusive opportunities.
Naina Samson being a Mental Health professional elaborated that, one of the important aspects of Reproductive Health is emotional Well-being which is still not been taken into consideration, we all need to stand firm as an individual regardless of waiting for opportunities, and that would definitely take time. She continued that we should continue with the campaign for it ok Not to be fine to give space to the people to talk about their emotional and mental problems.
Along with this, other young activists from other countries participated and shared their thoughts to develop strategies to work with more commitment with the inclusive and impactful approach in the coming 5-10 years. During the workshop, they learned the new ways of Cyber Security, theatre for Advocacy, creating impactful interventions, campaigning, and communication techniques to work more promptly for positive and sustainable change in society.
This particular workshop remains fruitful for all the young professionals to spread social change and Justice. Overall for these Pakistani advocates, this would be a definitely big support in connecting dots and youth to work more effectively in Pakistan on youth, gender equality, social change, reproductive health, and wellbeing.