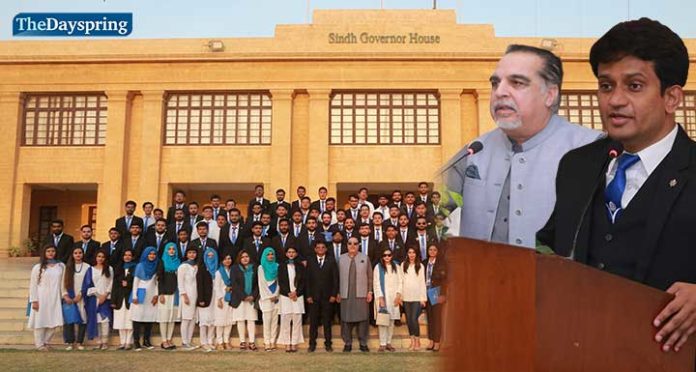 Web Desk
KARACHI: I am hopeful that today's youth would not repeat the mistakes and shortcomings of the politicians of the past because you had regular training platform in the form of Youth Parliament. This was said by Governor Sindh, Imran Ismail who was speaking during the oath taking ceremony of the district members of Youth Parliament's Sindh chapter held on 21st November 2019 at Sindh Governor House, Karachi. 100 Youth Parliament members including city, district coordinators and general members took oath at Governor House. Mr. Aftab Siddiqui (Member National Assembly & Patron Youth Parliament) administered oath to Youth Parliament Members.
The ceremony was graced by His Excellency Governor of Sindh Imran Ismail as Chief Guest. The guests of honor included Mr. Aftab Siddiqui (MNA), Mr. Jamal Qureshi (MPA), Mr. Shahzad Qureshi (MPA), Mr. Farhan Hanif (Chairman Crown Group), Dr. Safiuddin Siddiqui (Founder & CEO – Meritorious Education Network),  Mr. Asif Khan (Founder – Happy Palace Group of Schools), Mr. Zeeshan Altaf Lohya (President – Z International School), Mr. Nadeem Ahmed (CEO-MaazJee), Mr. Imtiaz Hussain (Managing Director – Imtiaz Enterprises), Mr. Jam Muhammad Farooq Ali (Business Leader & Politician), Mr. Mohsin Durrani (Ambassador at Large IHRC), Mr. Afzal Chamdia (Advisor to Chairman – Sylani Welfare), Mr. Syed Nasser Wajahat (Secretary General – American Pakistan Business Development Forum), Mr.Anwar Ali Bhatti (Chairman-Rose Educational Society), Mr. Sameer Shamsi (Convener – Youth Parliament Professional Forum) and Mr. Idrees Ghazi (Advisor – Youth Parliament Debate Council).
"Today seeing Youth Parliamentarians I remember my university life when we were involved in student politics. The best way to improve young generation would be through politics, which is a tool used to take action for development. And I can proudly say Youth Parliament is the best platform which is training youth for a better tomorrow", said Mr. Aftab Siddiqui.
Chairman Youth Parliament Mr. Rizwan Jaffar on this occasion gave a presentation on Youth Parliament's aim, objectives and future goals. He said: "It is the youth of any nation which help the country progress and prosper. Youth Parliament aims to provide proper direction to the youth of county because youth of Pakistan can do wonders they only need proper guidance and direction. We believe in change through dialogue not violence and we are thankful to the Governor of Sindh for his support".
"We always see Prime Minister Imran Khan is very concerned about the youth of Pakistan. It give hope and encouragement to youth when PM Imran Khan speaks and address the basic youth issues on several platforms", said Rizwan Jaffar.
Addressing oath-taking ceremony of Youth Parliament cabinet members Honorable Governor Sindh Imran Ismail said: "It's a pleasure that there is a platform like the Youth Parliament which is grooming the leaders for the future".
The Governor said: "I hope that you (Youth) would not repeat the mistakes and shortcomings of the politicians of the past because you had regular training platform and you had taken the oath of loyalty to the Constitution of Pakistan and the service to the nation." "Whatever position you attained or profession you chose that oath would remain a part of your life" , he added.
Governor Sindh felicitated the Cabinet Members on their elections and said: "You had a chance of elections at a young age. Election is the foundation of democracy. It gives you the skills to understand." The Governor said, "I am very pleased to know that Youth Parliament after working successfully at the country and provincial levels and coordinators at the city and provincial levels had been appointed in 75 districts of the country which would work on implementation of SDGs." He said that he was happy to know that the Youth Parliament had established its chapters in educational institutions of Sindh.
Governor Sindh Imran Ismail appreciated the efforts of Rizwan Jafar who founded the Youth Parliament in 2005.