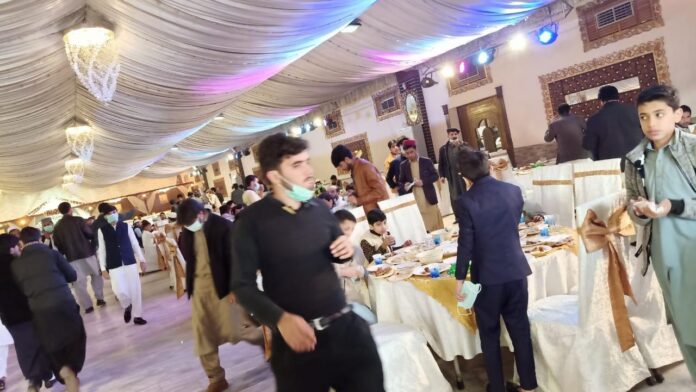 By: Farzana Ali Khan
PESHAWAR: Crown Club and Paradise wedding hall were sealed due to violation of coronavirus SOPs in Peshawar on Sunday.
The DC office told this scribe on phone that the Additional AC Kashif Jan visited wedding halls o Ring Road and Dilazak Road where food was being served to people.
He further added that action would be taken against the arrested managers of the wedding halls as per the relevant laws.
The spokesman for the DC office also said that actions would continue against the owners of the wedding halls if they do not follow the SOPs regarding coronavirus.
It has been learnt that despite ban on wedding halls across the country in view of the increasing rates in the patients and deaths due to the pandemic still people are showing their irresbonsiblity by violating the orders by federal governments.
Besides Peshawar in many other cities of Khyber Pakhtunkhwa including Mardan; on of the second largest city of KP people are giving deaf ears to the laws imposed on them and continue their ceremonies in the wedding halls buy using their influence. The mangers of the clubs also allow the functions being held. Sensible and responsible citizens have requested and emhasised the authorities concerned to take notice of the actions and put strong restrictions on the owners of the halls and lockdown the activities untill the situation becomes favorable.