By: Asem Mustafa Awan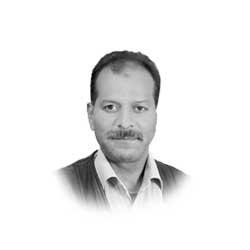 The rare white lion was breathing his last and as he was dying with fading eyes so was care, compassion from the zoo which probably has sold the skin to some rich elite for an untold amount besides its teeth that fetch a very hefty amount in the black market.
The unmatched grandeur and demeanor of this king of the jungle has no parallel in the animal kingdom.
There is no amount of words that can express the grief, this scribe has for creature which symbolizes wild, free and strong spirit.
The zoo authorities in Pakistan have a past that has tales of unfathomable tyranny towards the captive creatures which are made to starve and in the end left to die.
ALSO READ: Statues at Marghzar Zoo depict the untold tale of tyranny
The closure of Marghzar Zoo and the decades-long battle of Kaavan, the world's loneliest elephant, the presidential gift from Sri Lanka has made the headlines globally.
The government of Pakistan could have rectified the mistake and could have done face-saving but nothing doing the zoo authorities with their incompetency made sure that Pakistan as a nation is faced with international humiliation.
The killing of lions on the order of the court and how the transportation took place and the ultimate death is all documented on YouTube.
The people who killed these magnificent creatures got scot-free and they were never brought to book. These incompetent people made it to these animals with connections to get government salaries and unlimited perks.
Kaavan and the pair of Himalayan brown bear were lucky as it was court who came to their rescue and the needful for their rehabilitation of was done.
These animals have faced years of torture at the hands of their captives and there is call that these zoos in Pakistan should be shut down.
The illegal animal and bird market in Pakistan is existing because of these zoos where the staff in connivance with black marketers, steal the birds and their chicks besides food.
The starving lion is enough proof of the callous zoo authority that stole the food from the captive creatures.
The writer is a special correspondent at The Dayspring