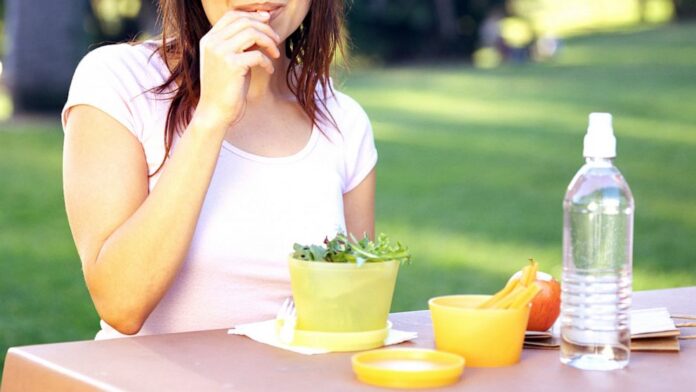 By: Sundela Fayyaz
January is the Weight Loss Awareness Month. January is the start of the year so many people plan to loss weight which they gain throughout the year.
Weight loss depends on your lifestyle, daily habits, diet, and workout. The best way to maintain a healthy lifestyle is to be Physically active and adopt healthy eating habits.
Physical activity is proven to help with achieving and maintaining a healthy weight and it is important for both a healthy mind and body for people of all ages.
Weight loss is a big business around the world these days, people in every society are looking to shed a few pounds to look better and improve health but there is no quick fix to weight loss rather than to be committed to the Weight loss goals they have made, which can improve the overall health in the process with a little patience and hard work.
Everyone wants to lose weight quickly but the people who lose weight gradually and steadily are the ones who can be successful at keeping weight off.
Losing weight too abruptly is the quickest way to look older than your age.
Weight Loss doesn't mean to go on a crash diet program. It is about an ongoing lifestyle with long term changes in daily exercise and eating habits.
Every person is different from the other on the basis of their specific genes, biology, and past, same is the case with the weight loss phenomenon, for example women tend to lose weight differently than men.
Men may lose weight more quickly because they are more muscular , while women may have more fat and calories are burn more quickly from muscle than fat.
Most women religiously follows the diet plans to lose weight. However, it's not dieting that works but Increasing exercise or physical activity and choosing healthy foods is what works best for many people to achieve a healthy weight.
For the weight loss journey calorie count is the most important thing which depends on your age, your height and weight, and how active you are.The more calories your burn the more slimmer you become.
STEPS TO HELP LOSE WEIGHT 
Here are some diet plans to help you reduce weight and improve health.
1. ADD PROTEIN TO YOUR DIET
In the process of digesting and metabolizing the proteins in our food, our body burns calories.
Thus high protein diet is good for loosing weight.
2. LIMIT YOUR INTAKE OF ADDED SUGAR
Added sugar in our diet not only allows our body to gain weight but it also linked with some of the world's leading diseases, including heart disease, type 2 diabetes, and cancer.
Minimizing the intake of added sugar is a great way to improve diet.
3.DRINK PLENTY OF WATER
Water speeds up the metabolic rate in our body, which increase calorie loss. Especially drinking warm water with lemon juice in the morning, accelerates weight loss.
The benefit of drinking water before meal is that it makes you feel full so that you avoid eating much.
Drinking at least two glasses before every meal can work wonders.
4. USE OF BLACK COFFEE
Coffee drinking supports weight loss by increasing the number of calories you burn.
Black coffee is best for weight loss, since it can make you feel full and contains almost no calories.
5. INTERMITTENT FASTING
This method makes you eat fewer calories overall. It's the way of eating with intervals which leads to weight loss, as well as numerous other health benefits.
6.  COUNT CALORIES
You always should be well aware about your diet, it's very helpful when trying to lose weight.
You can do this in several effective ways, including counting calories, keeping a food diary, or taking pictures of what you eat.
7. TRY A LOW-CARB DIET
Including Low-carb food items, helps in reducing weight. Foods that have low carbohydrates reduces the weight thrice as compare to the food that are low in fat.
8. REPLACE SOME FAT WITH COCONUT OIL
Fats are mostly deposited on the belly and it looks really bad. To reduce belly fats, Coconut oil can easily be used because it helps reducing belly fats. You can simply replace some of your fat sources with coconut oil.
9. ADD EGGS TO YOUR DIET
Eggs are high in protein, low in calories, and are full of nutrients. Most of all it helps in reducing weight due to the magical properties it has.Try to include egg in your diet to reduce weight.
10. EAT MORE FIBER
Foods that contain water-soluble fiber are helpful in weight loss because they increase the feeling of fullness. Fruits and vegetables, both are rich in fiber and are essential for weight loss.
11. EXERCISE
Jogging, running, cycling, walking, or hiking are the great ways to burn calories, reduce body weight and improve both mental and physical health.
By lifting weights regularly, you can easily lose weight.
12. GET ENOUGH SLEEP
Studies have shown that, people who sleep for at least 6–8 hours, can easily loss weight.
Sleep deprived person is prone to weight gain.
13. EATING PLAN
One of the best ways to lose weight is changing your current eating habits. By replacing unhealthy foods with healthier ones such as fruits, vegetables, quinoa, whole grains, olive oil, flax seed oil, almonds, walnuts, fish, salmon, and organic poultry can easily help you lose weight.
14. SMALL PORTIONS
One thing should be kept in mind that even healthy foods can also pile up calories fast. It's advisable to split your three meals into five or even six small portions so that you feel a lot fuller every time before meal.
TIPS FOR HEALTHY LIFESTYLE 
Here are some tips to help you adopt a healthier eating style:
INCLUDE
•          Fruits and vegetables.
•          Whole grains.
• Beans and legumes.
• Nuts and seeds.
• Fish.
• Skinless poultry and lean animal proteins.
• Plant-based proteins.
LIMIT
• Sweetened drinks.
• Sodium and salty foods
• Saturated fats and dietary cholesterol.
• Fatty or processed red meats.
• Refined carbohydrates like added sugars and processed grain foods.
• Full-fat dairy products.
AVOID
• Trans fat and partially hydrogenated oils – found in some commercially baked and fried foods
MEDICAL PROCEDURES TO LOOSE WEIGHT 
Surgical options are also used to treat obesity or weight loss issues. Weight-loss surgeries are called bariatric surgeries. Bariatric surgery is not a simple medical procedure but it is considered as major surgery.
In the process of weight loss treatments we have heard the name of liposuction, which people consider as a treatment for weight loss but Liposuction is not a treatment for weight loss. However, this is the surgery for the removal of fats under the skin.
It's time to change your lifestyle keeping in mind about the healthy choices you have to make.For the New Year, make a pledge to yourself and a commitment to physical activity and eating sensibly.This will help you stay motivated and stay on track to reach your goals for 2021.