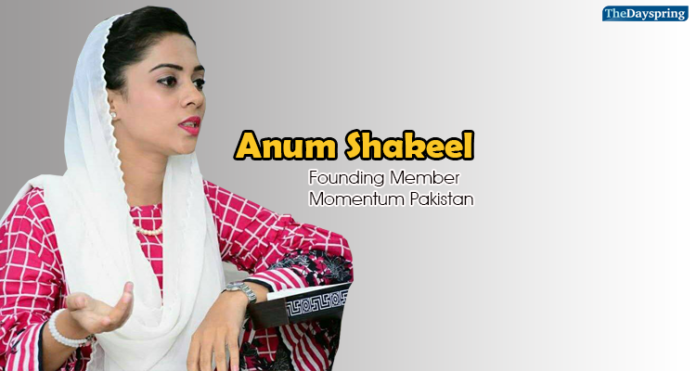 Anum Shakeel sharing her story of struggle & achievements
Anum Shakeel – A young girl with tremendous leadership abilities, hails from Karachi the city of lights. she has been a meritorious student throughout her educational career. The Dayspring reached out to her inquiring about different aspects of her life. Anum has been an exceptional student through out with distinctions right from 1st to grade 10 . She passed her intermediate from Premier Govt Girls College. Then, to excel in the learning she decided to go for higher studies. With her consistent efforts she was blessed by securing the admission in one of the prestigious institution, University of Karachi. This passionate soul was crowned with the gold-medal. This was the unprecedented in the history of this University to confer someone with the gold-medal in the evening-shift. She was bestowed with the historic achievement. Hence she earned her name in the annals of history. In her final year she started to render her invaluable services for the corporate world. The esteemed organizations are enumerated here: Dawn News, Tabba Heart, Li & Fung, Dawood Foundation, Aurora Magazine and NBP.
Anum is currently the founding board member and head of communication and PR in "Momentum" Pakistan, The Leading Startups Conference and Exhibition in Pakistan and working with 300+ startups and well-known incubation and accelerators in Pakistan. She is also an Entrepreneur and form a club "The Marketects Club" with the mission to bridge the gap between academia and industry. She is helping and supporting the students to get into the corporate world, from a classroom to boardroom experience through internships, industry tours, workshops, seminars and mentor clinics. Anum is also playing the vital role in the chambers as the youth activist and promoting youth activities. She has been on various TV shows as the youth representative and covered by magazines and newspapers for her various accomplishments at such a young age. Most prominently she is appointed as Mentor from Asia to WEDU Global. An International Women Empowerment Organization and she is supporting Women Entrepreneurs globally. She is also the contributor at World Pulse. It's a global social network where every woman's voice can rise up to transform her community. Undoubtedly, the woman empowerment is the crying need of this today's modern world. Anum is shouldering the responsibilities for this cause. As being the strongest believer of woman empowerment, her contribution is really praiseworthy. Last but not the least, She owes this all to her consistent hard-work, indomitable-will, blessings of Allah and the morale support of loved ones especially her Mother.
What motivated you to opt for this diversified profession of interconnecting the academia with the corporate world?
Just after my graduation subsequently volunteering, I thought securing a job would be easy but found the situation otherwise. Since then I resolved to work for the greater good of the new aspirants. Three inspirational words by my teacher still echo in my mind. Passionate, Enthusiastic and Vibrant, these words are still the strongest source of motivation for me.
Can you share the decisive factor behind your initiative for this profession?
With the passage of time, I noticed a huge gap between the Academia and Corporate World. I understood the grave nature of the situation and took the initiative to bridge that gap. As a result, TMC was my brainchild and my consistent efforts paved the way for materializing my initiative into action.
How do you bridge the gap between academia and the corporate world?
With the help of interactive sessions and conferences we find our cause has been fulfilled to a great extent. We equip these fresh graduates with all prerequisites to cope up with the environs of cut-throat competition of today's corporate world.
Can you share yours vision with us?
Our vision is to narrow down the gap between Academia and the Corporate World. It is to make these fresh graduate capable enough to find their ways and their right place in today's challenging corporate world.
What's your ideology/philosophy in life?
My philosophy of life is never too leave the things half-done. One must deliver to the fullest of ones potential. My simple philosophy is that I own my work wholeheartedly. I feel that the ideal way to do work is to be engrossed in it. Hence, I do my work like 'Ibaadat'.
How do you help the new aspirants in making inroads into the corporate world?
We make this all possible by organizing interactive sessions, informative conferences, learning based study tours, volunteering, career counseling, job fairs and internships.
Can you share the secret of success with us?
My secret is immense self-belief, consistency and being calm and composed in all circumstances. It includes commitment, learning from mistakes, hard work, listening to others and keeping pace with new dreams and improvement. Last but surely not the least the prayers of my parents.
What message do you want to deliver for the new aspirants?
Never ever lose heart at temporary failures. Be focused over your aim. Do your best and the rest leave to Almighty Allah. I believe one day, there comes in life, when the strongest belief and perseverance ultimately lead to the astounding success.
Do you think women are good business leaders?
Yes, I sincerely agree that women are good business leaders. The present working scenario is more diversified. The ever-increasing role of women in the corporate world is a very healthy sign. Fortunately, the contemporary environs of business is in the process of manifold transformation. As far as the women-leadership role is concerned, comparatively there are far greater vistas of opportunities for today's women. I believe that this is the right time to give the considerable space to women. Thus, they possess the enough potential to brave the contemporary leadership challanges.
When you are stressed, what is the strategy you devise to shun those stresses?
I am not typically stressed and work best under stress. I keep things in an alternate point of view. My reasoning is that you appreciate the dare and the disagreeable stage will pass. I possibly stress when things are going exceptionally well. At the point when all else comes up short, I pray to God for celestial mediation.
In the end, any message for the younger generation?
I am positive about the youth. We need to give them right channels and opportunities. I anticipate that they should be idealistic and prepare themselves for the difficulties in day by day life.
From our Print Edition