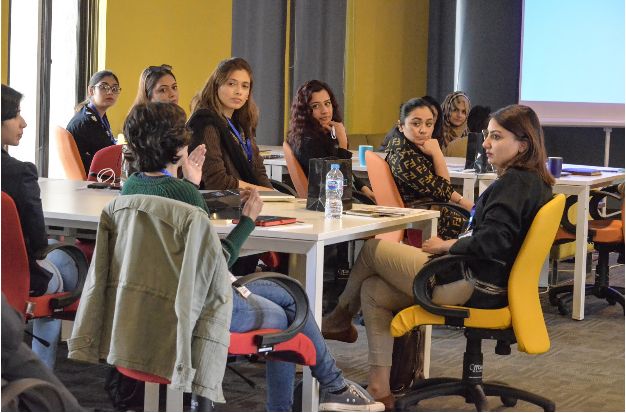 By: Asim Nawaz Abbasi
Women's empowerment is a topic that is much talked about, yet it is often unclear what it means in practice. At the end of November 2018, Nicole Bogott and Tanja Schomann from the international female leadership network PHILIA hosted a workshop for Afghan and Pakistani women at National Incubation Centre in Islamabad, Pakistan. The PHILIA workshop that used a very hands-on and fresh approach towards women and leadership. The workshop was part of the impACT Conference for social entrepreneurs, which means all the participants of the PHILIA workshop were social entrepreneurs themselves or were striving to become either more sustainable with the projects or wanted to add a social component towards their work.
PHILIA's philosophy is that it is important for everyone to feel empowered and in charge of one's life, no matter if the person is female or male. From that perspective, one may wonder why it is important to focus on women's empowerment in particular. The sad truth is that women still face many systemic barriers that make the pursuit of their dreams and visions more challenging than it is for men. This is the reason why according to UN Women only 22.8 percent of all national parliamentarians were women as of June 2016. As of March 2017, there were 15 female world leaders currently in office, eight of whom are their country's first woman in power. Further, as of 2017, only 6.4% of the U.S.'s biggest companies (by revenue) are run by women.
What can be done? Change must happen on several levels. A very important aspect is the macro dimension. This means for example that labour rights need to take into consideration women-specific needs around pregnancy and child care. On the meso level, it means that individual organisations and universities need to introduce and maintain fair recruitment strategies. And, lastly, it means that we as a society need to support every girl and women to be self-confident to truly take care of herself, take her own decisions and reach her maximum potential.
The PHILIA workshop focussed on the latter aspect; it was all about giving each participants powerful tools to grow and be a strong personality.
PHILIA is a female leadership network that spans over 14 countries on four continents. The organisation collaborates with renowned institutions such as internationally operating foundations, NGOs and academic institutions. Throughout the workshop in Islamabad, participants were asked to reflect about three main areas of personal empowerment. These three modules are termed Powerful You, Powerful Peer and Powerful Community. The first part focusing on introspection is called Powerful You. The participants firstly set their personal goals and defined the barriers that hold them back. Then, the group learned about communication skills and how to support their peers in the second part called Powerful Peer. Lastly, during the modules Powerful Community they had a think about the larger impact of their actions on society and the environment. By taking part in the course, the participants gained strength and momentum to deal with everyday challenges related to systemic discrimination of women.
All of the participants run their own ventures that means they are already on a path to have a positive social impact. At the impACT International conference for social entrepreneurs, they also got the chance to mingle with other social entrepreneurs from different Pakistani cities and from Afghanistan without any gender division. This exchange led to an additional boost in inspiration and confidence. What is more, exposure always makes us grow. To meet people with a different cultural background such as Pakistan and Afghanistan holds the possibility to let go of prejudices and even form cross-border collaborations. We want to thank our partners and sponsors that made this event possible; especially Social Innovation Lab.
To know more about Philia you can visit www.wearephilia.com