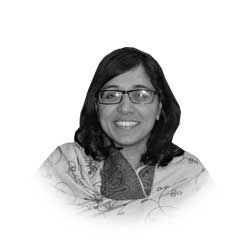 By: Rabbia Aslam
The strict public and private spheres dichotomy have been disrupted significantly ever since women started to take jobs outside the home from the 1960s onward. This significant change in women's lives was reflected in poverty and education, as poor women worked as domestics or in low-paid sectors of industry and educated women secured the jobs. As a consequence of women's salaried work, the public and private space dichotomy started to be reorganized. The first cause of this space reorganization was the transition from the tribal mode of production to a structure of dependence, which was brought about by colonialism and later modernism.
It is generally believed that if a woman does a job and is financially independent, the chances of her being exploited on the basis of gender are minimal.

Excerpt
Pakistan has held the second-to-last spot on the Global Gender Gap Index for five years in a row (2012-17). The index measures countries progress towards gender parity on economic participation and opportunity, educational attainment, health and survival and political empowerment.  According to recent 2017 population census, though women constitute 48.76% of Pakistan's population, they constitute only 24% of the labour force. The International Labour Organization data indicates that Labour Force Participation Rate (LFPR) for men (82.5%) is more than three times higher than women (24.8%). Women's share in wage employment is only 15% as they are engaged mostly as contributing family workers (54%), ultimately working without pay. 
Pakistan and Pakistani women stand at the cusp of change, where the boundaries between the public and private are challenged by urbanization whose rates have nearly doubled in recent years due to economic pressures and cultural change. The private space is culturally associated with powerless people (women and children) and is subordinated to the public space which is culturally associated with men who dictate the law, lead business, manage the state, and control the economy, both national and domestic.
Women empowerment and freedom are considered directly considered to be linked with employment and working outside of four walls of the home. It is generally believed that if a woman does a job and is financially independent, the chances of her being exploited on the basis of gender are minimal. But the question arises here is it true or just wishful thinking?  Is going in the public sphere and doing a paid job a solution for most of the problems women faced compared to when they are financially dependent on male members. Yes, would be the common answer, but the situation is not actually that simple for some it is true but certainly not for all.
Feminist economists have already defined it differently with a gender perspective. In Pakistan, the majority of the working women are stuck between public and private. She is managing at both ends. Being a traditional and cultural society our generation is confused. Although, in middle class educated families, whereas financial supports are necessary for running the family affairs and women income is part and parcel of the family necessities though her role is not being acknowledged as an earner.
It is argued that the family in industrial society is losing many of its functions. Sociologist Ronald Fletcher (2000) claims that the family's functions have increased. The role of the family has changed from a producer to a consumer. Goods and services are increasingly being bought and consumed – houses, cars, furniture and education. Hence, the highly materialistic world demands that both husband and wife go out to work. The controversy is that women would then contribute to the family budget while men would not contribute to the household work. However, the view that they are facing a triple burden and they are working on the second shift is contested.
Moreover, even though they go out to work in order to contribute to the family budget, they still have to take care of the household chores which most of the time are inequitably shared. Modernization and industrialization have brought about the breakdown of the extended family to the emergence of the nuclear family. But there is diversity in each cultural context.  In the middle class of Pakistan, there is still tension between choice of typical housewives model and working women as housewives too. Due to modernization now they have voyaged from housewife role to working women but still working women performance is being accessed with the yardstick of ideal femininity when she is unable to fulfil the traditional roles of three Cs (Cooking, Caring & cleaning).
However, we can see the winds of change in urban women status and the typical myth that women's are homemakers, not policymakers is going to be changed with the passage of time. But there is the long road toward the development of understanding that to work outside the four walls of the house and working women are not always empowered in terms of ownership of resources and their private affairs are always at stake and they are constantly being evaluated on the criteria of ideal femininity. That is the reason I mentioned that working women are sandwiched between public and private.
The author is a lecturer at the Centre of Excellence in Gender Studies, Quaid-e-Azam University, Islamabad. She can be reached at [email protected]