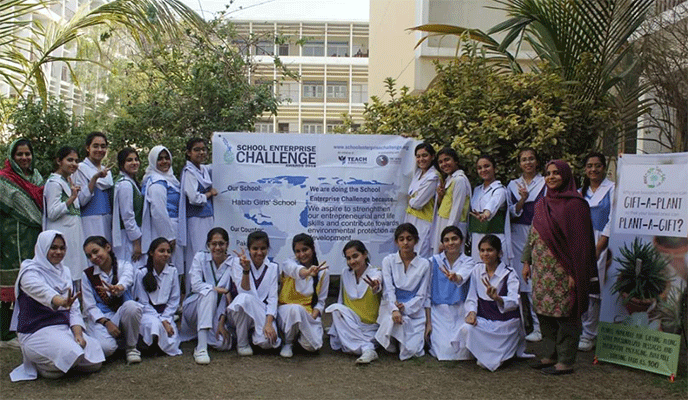 Spring is just around the corner and while most young females are busy revamping their wardrobes, students of Habib Girls' School are kicking their learning and imagination up a notch.
The students led by their teachers, Ms Fouzia Faisal and Ms Marium Shujauddin, have participated in the School Enterprise Challenge Awards Programme. This provides the students hands on learning for running a sustainable business. Student Asma Qadri comments, "This has been an overwhelming experience and we are learning to work as a team, encounter the challenges and joys of running a business while leaving a positive footprint for the society and community!" Along with the students, their Lead teachers are also content with their progress. Ms. Faisal expresses, "The project has provided a platform for students to embrace real life skills and it's wonderful to see the students being passionate about their business and working as a team. It has not only provided an opportunity for academic enrichment but to learn skills that will last a lifetime!"
Belleza had been founded with an aim to promote organic beauty products amongst young girls who are willing to buy natural beauty care products to avoid the harmful effects of chemicals and inorganic products. The products are free from harmful chemicals and environmental friendly. The packaging and production process would allow the students to refine their artistic as well as entrepreneurial skills. The idea co-relates with the school's objective of inculcating life skills amongst our students.
The aim of Habib Girls' School is not just to win this challenge but to create better initiatives and run the business profitably in the long run.