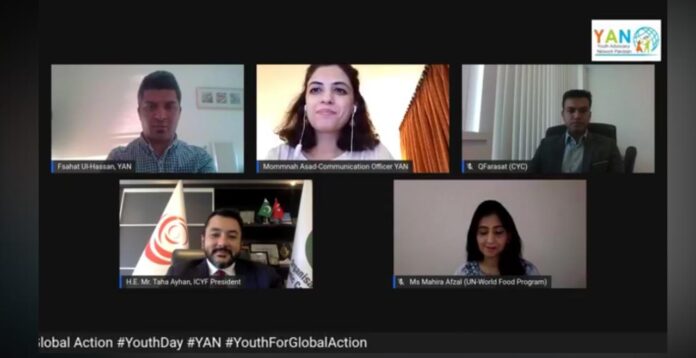 By: Our Correspondent
LAHORE: To commemorate International Youth Day, Youth Advocacy Network (YAN) organized an International E-Conference, which brought together young experts and entrepreneurs to discuss their challenges and perspective on the spaces for youth engagement at local, national, and global level.  
ICYF (Islamic Cooperation Youth Forum) is providing numerous platforms and opportunities to young people to share their work and build their capacity building, this was said by Taha Ayhan – President ICYF during an e conference. He emphasized on bringing young people together for sustainable and resilient world to bring a bigger change.
The E-Conference was attended by Taha Ayhan – President Islamic Cooperation Youth Forum, Rehan Tahir – Humanitarian Expert & Advisor to Minister on Religious Affairs, Qasim Farasat – Executive Commonwealth Youth Council, Mahira Afzal – Media Head World Food Program Pakistan, Zargoona Wadood – CEO Inceptions, Muhammad Asad Zameer – Founder Wonder Women, Reshal Dahiya – SMILE Professional Pravah India, Elmaddin Mehdiyev – Director General Islamic Cooperation Youth Forum ERC, Aytan Aliyeva – President Great Silk Way International Youth Union, Aashish Khullar – Vice Chair UN Major Group for Children and Youth and Asyraf Adlan – UMNO Youth Malaysia. The conference was moderated by Mommnah Asad and Danish Tariq.
In the welcome note, Fsahat Ul-Hassan, CEO – YAN highlighted the importance of youth engagement in Pakistan, especially during these days of pandemic. In the Opening Session, Qasim Farasat talked about the needs fulfillment of young people and to strengthen National Youth Councils to effectively ensure youth participation in policies. Mahira Afzal shared the work in partnership with Government of Pakistan in the field of malnutrition and stunted growth and how their programs are inclusive of young people. Rehan Tahir highlighted the work of Government of Pakistan for the meaningful engagement of young people at policy level and decision making process in Pakistan. 
In the Second Session, the young entrepreneurs and youth advocates shared their entrepreneurial journey and the challenges they faced along the way. They all agreed that national policies must ensure the conducive ecosystem for the entrepreneurship in Pakistan and India. Educational Institutions must focus on the changing of mindset of young people from seeking employment to start their initiatives for generating more employments.
In the Closing Session, Asyraf Adlan rightly mentioned the need to engage young people in economic and political process particularly at regional level. Aashish Khullar dscussed the role of UNMGCY in policy advocacy, knowledge, and capacity building of young people on the interdisciplinary topics. Ayten Aliyeva highlighted the challenges that hinder young people engagement at global level. Lastly, the Key Note Statement was delivered by Elmaddin Mehdiyev who highlighted the role of stakeholders in creating more spaces for the young people and mitigating the challenges that comes in the way.
To conclude the conference, Hafsa Mehmood – Chairperson YAN, thanked all the speakers and participants for their efforts along with highlighting the fact that nothing can be achieved till people from all genders are not involved.  All the speakers Congratulated Youth Advocacy Network (YAN) and highly acknowledged their work for the meaningful youth participation and capacity building of young people. They also accredited that YAN has actually sow the seed of bringing the E-Conferences and for not stepping back due to COVID-19.