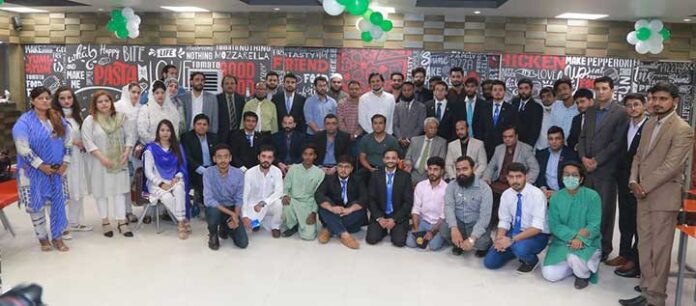 KARACHI: Youth Parliament celebrated 73rd Independence Day of Pakistan and Crystal Jubilee of Youth Parliament on 13th August 2020 at Connekt – Professional's Center Point. The event was graced by several dignitaries from different codes of life and Youth Parliamentarians from all over Sindh.
The guest of honors included Aftab Hussain Siddiqui (Leader – Pakistan Tehreek e Insaf), Kashif Chawla (Chairman – Al- Karam Towel Industries), Dr. Farhan Essa (CEO – Dr. Essa Laboratory and Diagnostic Centers), Shaikh Imtiaz Hussain (Managing Director – Imtiaz Enterprises), Imran Arif (President – A & I Group of Companies), Hunaid Lakhani (Founder Chancellor – Iqra University), Nehal Hashmi (Former Senator), Muhammad Adnan (Group Director – A & I Group of Companies), Muhammad Rehan Hashmi (Chairman – DMC Central Karachi), Asif Ismail (COO & Director – Premier Cables Private Limited) & Anwar Ali Bhatti (Chairman-Rose Educational Society).
The event activities included guest speeches, video presentations, documentaries, awards and national songs. Chairman Youth Parliament Mr. Rizwan Jaffar presented 15 years progress report of Youth Parliament in front of guest, board of patrons, advisors and members of Youth Parliament.
During his presentation Mr. Rizwan said: "I thank all our patrons, advisors, supporters and members for their unconditional support. Youth Parliament is coming up with new project and opportunities for the youth across Pakistan".
"During my student life I witnessed Student Unions which were the nurseries of leadership. They hold debates between students from opposing parties. This helped to create tolerance for differing viewpoints and helps students learn the 'agree to disagree' approach. Regular, annual elections were held that taught students how to campaign and build a support base. But later on they were banned. Today on the occasion of 73rd Independence Day of Pakistan and Crystal Jubilee of Youth Parliament I proudly say that Youth Parliament played an important role to fill the gap of student unions and build leadership skills in the youth of Pakistan", said Mr. Aftab Hussain Siddiqui.
During his address Mr. Kashif Chawla (Chairman – Al- Karam Towel Industries) said: "Youth must take self-initiatives for the betterment of country. There are several sectors where youth can indulge themselves and develop their skills. Youth is the only hope for Pakistan and we must focus on their education and motivate them to become a responsible citizen".
"I am happy to know that Youth Parliament has successfully completed its 15 years. Youth Parliament is the institution which is the need of time. It polish and grooms the youth for national politics", said Mr. Shaikh Imtiaz Hussain.
Mr. Hunaid Lakhani felicitated everyone on this occasion. He said: "Today on the occasion of Independence Day we must thank to Almighty Allah for blessing us with an independent state which gives us the right to live a stress free life and breathe in a free atmosphere without any suppression".
Mr. Rehan Hashmi said: "Pakistan is an outcome of Pakistan Movement led by great leaders of that time. We need success stories and polished youngsters for the bright future of Pakistan. Pakistan needs educational institutes like Aligarh".
"Pakistan achieved great milestones in last 72 years. Beside these achievements we have done many mistakes and we must learn from them. Independence Day reminds us of the sacrifices of our forefathers and on this important day we should not forget the heroic role played by them for Pakistan movement", said Mr. Nehal Hashmi.
Addressing the guests and Youth Parliamentarians Mr. Muhammad Adnan (Group Director – A & I Group of Companies) said: "We are happy to be a part of Youth Parliament. Together with Youth Parliament and with the support of all board members, A & I Group will work on several projects and initiatives for the development of youth.
On this auspicious occasion Maulana Bashir Farooqui (Chairman – Saylani Welfare Trust) offered special prayers in which he prayed for the development, prosperity and wellbeing of Pakistan.
The event ended with the opening of new head office of Youth Parliament and cake cutting ceremony.