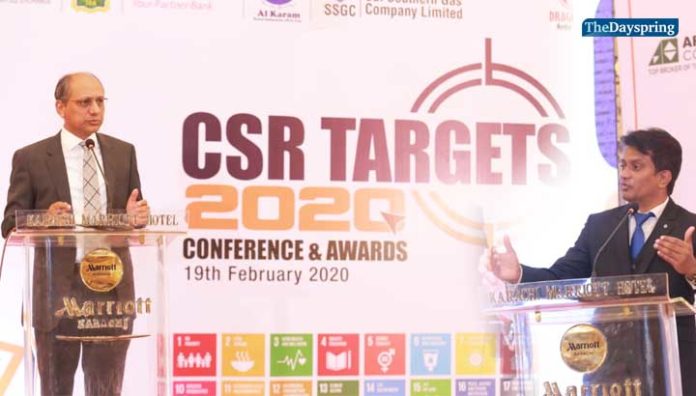 Our Staff Reporter
"To shape the future of Pakistan provincial government is focused on improving the Health and Education sectors in Sindh. Education and health had always been at the top of the Sindh government's priorities. To achieve our goals I appreciate the efforts of the corporate sector for their corporate philanthropy", said Saeed Ghani during a conference organised by Youth Parliament Pakistan with the title 'CSR Targets 2020 Conference & Awards' in Karachi
The conference gave an opportunity to business community & non-profits to share their work in the commitment of tackling real-world challenges and enabling sustainable social impact through workplace giving, employee engagement, and related areas of philanthropy. The conference was attended by youth and professional who got an opportunity to listen, meet and interact with business leaders, entrepreneurs, CEOs, political leaders, influencers, social activists, and celebrities under one roof.
The conference was graced by Mr. Syed Ghani (Minister for Education – Government of Sindh) as Chief Guest. The guests of honor included Mr. Mehtabuddin Chawla (Business Leader), Mr. Ahsan Mehanti (Managing Director/CEO – Arif Habib Commodities), Dr. Farhan Essa (CEO – Dr.Essa Lab and Diagnostic Center), Mr. Shahbaz Islam (General Manager/Corporate Communications Department – SSGC), Mr. Shahzad Qureshi (Leader – PTI), Mr. KhurramIjaz (Vice President – Federation of Pakistan Chamber of Commerce & Industries), Mr. Ansar Burney (Human and Civil Rights Activist), Mr. MianZahid Hussain (Senior Vice Chairman – Businessman Panel Pakistan), Dr. Muhammad Babur (Strategic Advisor – Vital Tea), Mr. Saifuddin Siddiqui (Founder CEO – Meritorious Education Network), Mr. Asif Khan (Founder – Happy Palace Group of Schools), Mr. Rehan Hashmi (Chairman – DMC Central, Karachi), Mr. Zafar Abbas (General Secretary – Jafaria Disaster Cell), Mr. Zafar Salim (Executive Director-NGO Solutions), Mr. Asif Ismail (COO & Director – Premier Cables Pvt. Ltd), Mr. Syed Umairuddin (GM – Baithak Schools Network Society for Educational Welfare), Ms. ShymaZaheer (Director-Superior Network), Ms. Tasneem Zahra (President – IQ Tales), Mr. Syed EhteshamUlHaq (CEO – Ceres Associates USA), Ms. AfroziaTabassum (Chairperson-Taboo Welfare Society), Mr. RehanAllahwala (Chairman Rehan Foundation), Mr. Usama Amin (CEO – AU Communications), Mr. ShoaibAzeem Rajput (Transparent Hands), Mr. Jam Farooq Ali (Leader – PTI) & Ms. Uzma Al Karim (TV Host, Producer).
During his speech, Mr. Saeed Ghani (Minister of Education) said: "To shape the future of Pakistan provincial government is focused on improving Health and Education sectors in Sindh. Education and health had always been at the top of the Sindh government's priorities. To achieve our goals I appreciate the efforts of the corporate sector for their corporate philanthropy".
"Corporate social responsibility activities amongst various corporations and its stakeholders could contribute to the macroeconomic development of a developing country through sustainable benefit to all. Youth Parliament is committed to strive for betterment in Pakistan through CSR in collaboration with the corporate sector and government authorities", said Rizwan Jaffar (Chairman Youth Parliament).
On this occasion, several companies and corporation were conferred awards for showing outstanding performance in the arena of Corporate Social Responsibility. These companies included Al Baraka Bank Pakistan Ltd, Sui Southern Gas Company, Dr.Essa Lab and Diagnostic Center, Al Karam Towels, Arif Habib Commodities, Vital Tea, Chase Up, Meritorious Education Network, Happy Palace Group of Schools & Z International School. Youth Parliament also appreciated and acknowledged several non-profits for their work in community development.