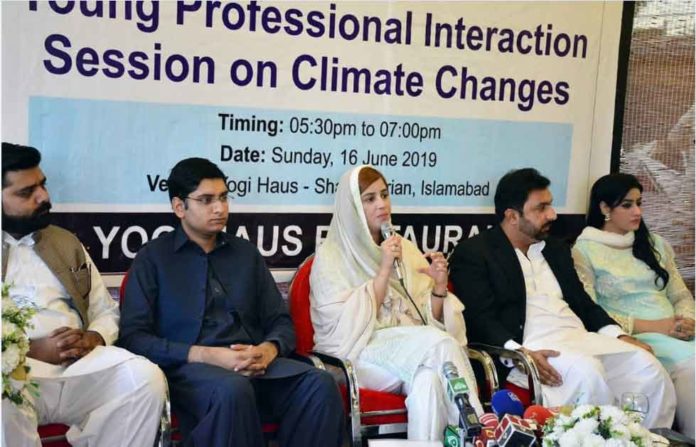 ISLAMABAD: A youth interaction session was arranged to bring awareness among youth regarding climate change in Pakistan. For the purpose Minister for Climate Change was invited by President Youth Parliament Pakistan Mr. Ubaid Qureshi.
Member of Youth Parliament Engr. Sajawal Shahzad Bhatti while giving opening remarks said that Pakistan population is comprised of 69% youth which is quiet large in number. He insisted to involve youth in policy making at all forums so that issues can be identified in real sense and resolved. He emphasized on Tree Plantation all across motorways, expressways and GT Roads. In addition to that a proposal was floated to make Environmental Impact Assessment Report (EIA) compulsory for all small and large scale projects. He further added to ensure implementation of EIA report during the course of project. Many guest speakers including Faisal Jamshed, Waqar Shah, Tabish Abbasi, Waleed Khan, Bilal Masood Shiekh and Shahrukh Khan expressed their views on the subject. They highlighted to keep the environment clean and also briefly described their efforts in developing a green Pakistan. Many drives in northern areas of Pakistan are being done to clean litter across driveways and walkways. In addition many tree plantation drives are carried out all across Pakistan. The same narrative is supported by students from all universities of Pakistan and they remained involved in all such activities. YPP has agitated youth and provided them a platform and guidance to youth to channelize their energies in the right direction.
Mr. Ubaid Qureshi further added to hold a Climate Change conference to have youth on board. He discussed the importance of Youth in Policy making in climate changes. Neelum Jehlum power project water crisis were highlighted and requested Mrs Zartaj Gul to visit the project to evaluate and resolve the issue. He further added and stated that youth of Pakistan hold a great potential and must be acknowledged and highlighted at right at all tiers.
Mrs. Zartaj Gul is then invited to address the youth on the subject. She acknowledged the youth's effort and accentuated that youth is doing great work and no doubt that the problems exist but youth has to be strong and make serious efforts to bring change. She also explained the narrative of the government to support youth and also involve them in policy making. 1 billion tree project was highlighted. She also ensured the youth conference for interaction and awareness of youth at a larger forum. She stated that a visit may also be planned to Neelum Jehlum hydro power project to resolve the water crisis.