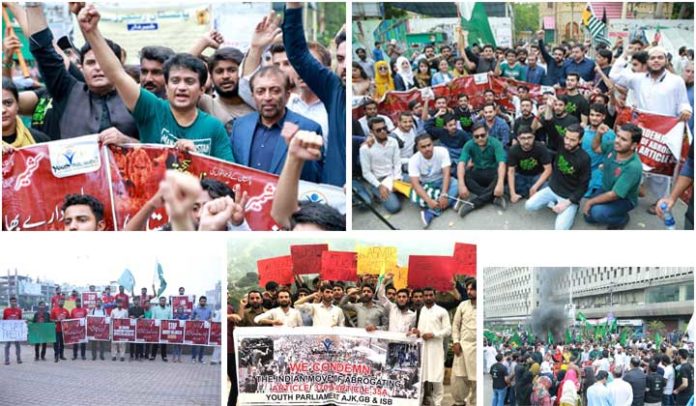 ISLAMABAD/KARACHI: Youth Parliament Pakistan held nation wide protests against Indian brutalities in Kashmir. Large number of Youth Parliamentarians gathered at Press Clubs of several cities across Pakistan including Karachi, Hyderabad, Larkana, Mirpurkhas, Lahore, Islamabad, Muzaffarabad, Peshawar & Quetta.
Youth Parliamentarians expressed their solidarity with the people of occupied Kashmir and condemned cruel measures taken by Indian security forces. At Karachi Press Club several prominent personalities joined Youth Parliament in its demonstration which included Mr. Faisal Edhi (Social Activist), Dr. Farooq Sattar (Political Leader), Sardar Nazakat Ali (Leader – Pakistan Peoples Party), Mr. Sarwat Ejaz Qadri (Chief of Pakistan Sunni Tehreek), Mr. Jam Farooq Ali (Leader – Pakistan Tehreek e Insaf), Mr. Mehfooz Yar Khan (Leader – MQM Pakistan) & Mr. Asif Hasnain (Leader – Pak Sarzameen Party).
Chairman Youth Parliament Mr. Rizwan Jaffar said: We condemn the brutal killings of innocent citizens of occupied Kashmir by Indian forces and we condemn and reject Indian government's decision to revoke Article 370 and scrap the special status for disputed Kashmir".
"The Kashmir issue is now not only the issue of India and Pakistan. Now it's the issue of International Peace which must be addressed", said Dr. Farooq Sattar.
"Entire nation stands united with Kashmiris against Indian violence. We will not let Indian Government succeed in its strategies in Kashmir", said Jam Farooq Ali.
Sardar Nazakat Ali (Leader – Pakistan Peoples Party) said: "The people of Pakistan are with the Kashmiris and we are ready to give any kind of sacrifice for our Kashmiri brothers and sisters".
On this occasion Youth Parliamentarians urged United Nations and International Human Rights organizations to take notice of the human rights violations in Indian Occupied Kashmir against defenseless innocent Kashmiris by Indian armed forces. Participants at the protest were holding banners inscribed with messages in favor of Kashmir.