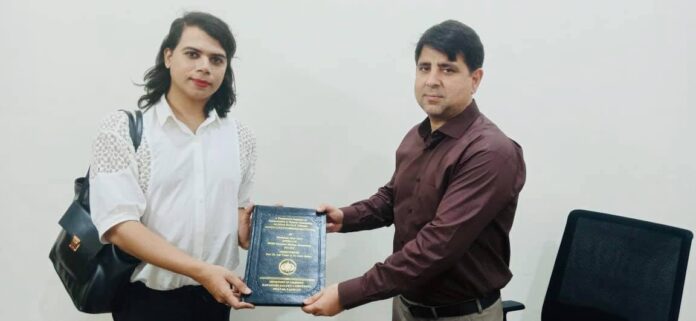 By: Our Editor
Transgender persons and other marginalized minorities in Pakistan are at high risk of discrimination, stigma and violation when accessing various social services. Transgender people generally do not seek admission in schools and do become victims of transphobia and homophobia. They are bullied and ridiculed in educational institutions and sometimes even dismissed from school because of their gender identity.
The general population is mostly ignorant about Transgender people and other marginalized minorities, which creates exclusion.  They are not accepted as equal citizens and are widely discriminated against in most spheres of life including education, housing, employment and health care.
While there are several issues for transgender people in Pakistan. There is a success story of a trans woman which is the most positive story of 2021 with regards to transgenders in Pakistan. Saro Imran is a well-known Transgender Activist and Social Entrepreneur from the South Punjab Region of Pakistan which is a deprived region of Pakistan. She has been working for the right and socio-economic empowerment of transgender people especially transgender youth since 2014.
Saro has been awarded with Mphil degree in Business Management with a specialization in Entrepreneurship from Bahauddin Zakariya University a public university in Multan South Punjab Pakistan. She is among only 3 transgender people in Pakistan having 18 years of education and 1st in her region which is really proud moment for the transgender community in Pakistan.
Saro has done her research on "A Transgendered Perspective on Entrepreneurship in Pakistan, Understanding the startup Motives & Challenges"
She chooses this topic because as per her 7 year of experience working for transgender people on the grass-root level, the majority of human rights violations happening on transgender people is due to the fact that they are financially dependent on their abusers. This is the first research done on this issue in Pakistan.  
As per the findings and recommendations of her research Transgenders should focus on the factors that contribute positively towards the businesses of transgenders. They should be provided with a supportive environment to do their business and should be able to earn a handsome amount by working hard. The problems should be minimized by the government as government should provide some subsidies and extra privileges to the transgender community due to the minority group.
Saro believes that Economic development is a real development and a sustainable road map for the growth of marginalized communities and also Economic development is widely recognized by the world due to entrepreneurship. She also believes that there is a need for proper legislation on the inclusion of the third gender community in all educational institutions.
She has developed her own initiative PINK SKills & Training Center to make and build up a circle of innovative arrangements across different organized verticals to achieve an economic change for Transgender People in Pakistan. The mission is Mission to boost up transgender entrepreneurship in Pakistan as a tool for their socio-economic development through capacity building, micro-financing, mentoring and resource mobilization. This is the first of its own kind of platform in Pakistan for transgender entrepreneurs.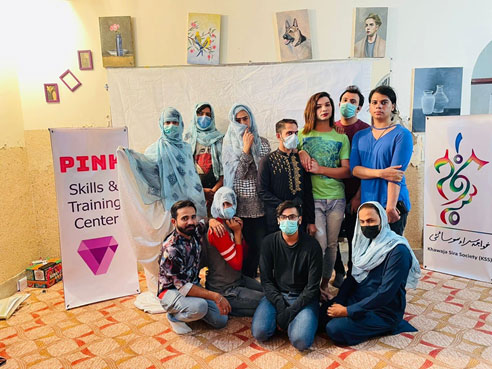 She is doing voluntary teaching in Pakistan's first government-run school for transgender students. Trans people are considered outcasts by many, especially in conservative areas of Pakistan. They are often sexually abused, assaulted and even murdered. They hesitate to get enrolled in regular schools to avoid discrimination. She strongly believes that education will change their life like how it changed her life.
Saro wants to proceed with her Ph.D. from a top university of the world and show the world a Transgender woman from a developing country like Pakistan can be a global leader. She wants to contribute to global policy and interventions developed for the socio-economic development of transgender people in the world and make Pakistan proud because of her.