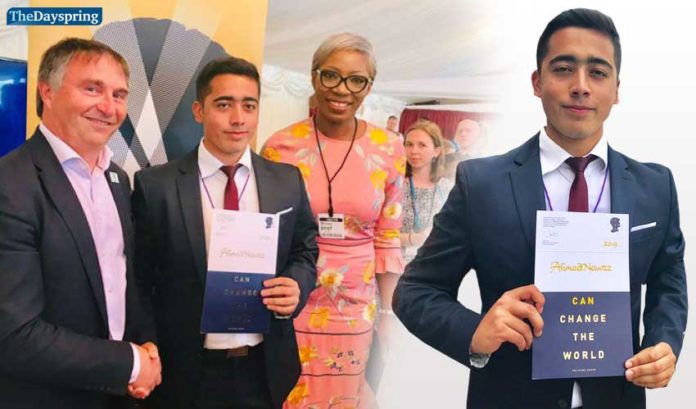 ISLAMABAD: 18 years old Pakistani and APS survivor Ahmed Nawaz has been conferred with Princess Diana award over his anti-radicalisation youth campaign. Ahmad who was just 14 when he survived the 2014 terror attack on his school in Peshawar, is the first Pakistani who has been honoured with the prestigious Princess Diana Award for his humanitarian efforts.
The award was founded as a legacy to Princess of Wales also known as lady Diana and her belief that young people have the power to change the world. Since 1999, the reputable award has recognised over 45,000 ordinary youngsters who have made an extraordinary differences to their communities.
The 18-year-old courageous Ahmad was 14 when his school was attacked by Taliban. He managed to escape with his life by pretending to be dead but witnessed his teacher being set on fire. Ahmad suffered serious injuries to his arm on the day and was brought to Birmingham's Queen Elizabeth Hospital for special treatment. He now tours schools around the United Kingdom in a bid to prevent students from being radicalised by sharing his experience.
Ahmad Nawaz with 42.2 K followers took to Twitter to express his gratitude for the award, writing that it has uplifted his morale and he "will continue to do positive work for the society and young people."