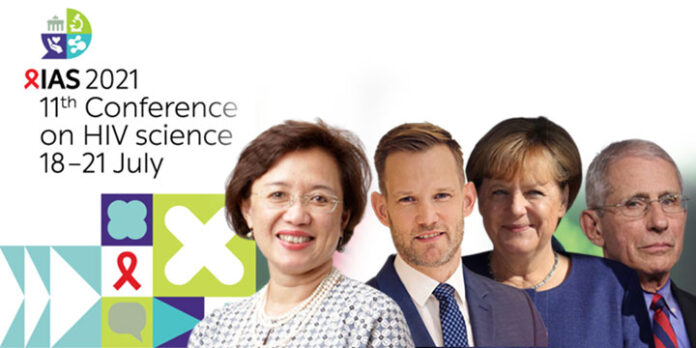 By: Asim Nawaz Abbasi/Editor
During the opening session of the 11th conference on HIV Science, the speakers urged for strong political will and collaborative efforts to end AIDS, a pandemic that is 40 years old and is still there.
Convened by IAS – the International AIDS Society – the virtual conference officially kicked off with remarks from speakers including German Chancellor Angela Merkel; and a panel discussion on the COVID-19 and HIV pandemics with global health experts including Anthony Fauci, director of the U.S. National Institute of Allergy and Infectious Diseases.
The virtual conference is being attended by some 6000 participants from around the world.
Professor Dr. Adeeba Kamarulzaman, IAS President and IAS 2021 Co-Chair 11th conference on HIV Science, said, It's been 40 years since the first reported cases of the disease now called AIDS, one of the worst pandemics in human history. To date, we have lost nearly 35 million people to AIDS.
Dr. Kamarulzaman highlighted the progress been made so far to end HIV, but she also noted that HIV and AIDS need more efforts to be eradicated from the planet earth.
Shedding light on achievements, she said "Thanks to scientific inquiry – including the dogged determination of many IAS Members – a positive HIV test no longer means a death sentence. A mother living with HIV can give birth without passing it on to her child, and an undetectable viral load is untransmittable between partners. Each year, our treatment and prevention efforts improve. And each year, we continue to unlock the mysteries of how HIV interacts with the human body".
Dr. Kamarulzaman mentioned that the response to the COVID-19 pandemic has leveraged HIV science to advance with unprecedented speed. She added that "In barely a year, we have not one, but several strong vaccines. It has also reminded us that science is deeply political. And just as evidence can drive sound policy, the politicization of science can drive misinformation and, ultimately, distrust".
She also said that global attention and commitment to prioritizing public health is also needed and for that use of digital technology and community partnerships in research and health care delivery are essential.
Hendrik Streeck, IAS 2021 Conference Co-Chair, said that to end COVID-19, eight licensed vaccines and over 30 clinical trials in phase III within months and only 8 HIV vaccines have entered phase III, even though we are 40 years into the pandemic of HIV and AIDS. He said that "with political will, we can achieve more in the fight against HIV and AIDS. HIV is still a global problem. While we are hopefully on our way to end one pandemic, the other has endured far too long. The time is now to end HIV and AIDS. We have the means and we have the opportunity".
Chancellor Angela Merkel, urged for worldwide cooperation to fight against Infectious diseases and that is only possible when scientists and researchers communicate with one another freely and continuously.
Merkel said that, "However, we have also witnessed how in the shadow of this pandemic achievements made in the fight against HIV have slipped from our grasp and sexual violence has increased which in turn has led to an increase in HIV infection rates."
"AIDS must not be allowed to fade in to the background due to COVID-19." she added
Dr. Anthony Fauci, director of the U.S. National Institute of Allergy and Infectious Diseases and the chief medical advisor to the president of United States said that global cooperation is a must to fight pandemics. He also said that science is the only option we can fight such diseases.
Dr. Fauci said that, "We really have an obligation, I think it's a moral obligation, for the rich countries of the world to make sure in real-time how do we get vaccines to the low- and middle-income countries that don't have the capability of getting them? Because these vaccines are absolutely life-saving vaccines."