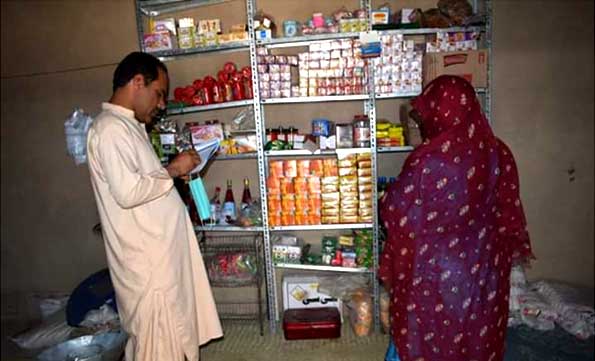 By: Tahira Ali
When it comes the rural community, everyone might think of the problems that breed there anytime. Being a single parent for parenting the children is itself the problem but feeding them is the other side. However, Ganj Khatoon is a vivid example of the women's strength to face the hitches being a widow. Ganj Khatoon lives in a rural community in village KilliSherenza of district Washuk, Balochistan. She is a mother of 5 children of which 3 are daughters and 2 are sons. She had lost her spouse in an incident, to bring her out of this tragic situation her father and brother have been a great support financially. She was unable of feeding her children, sending them to school was impossible so far for her.
Baluchistan, despite being gifted naturally, it is bound with a lot of sufferings and poverty is considered the base of all the evils that runs around. Interesting fact is that women are deprived of their rights and almost whole Baluchistan is fraught with Male dominant society, where women can't ask for their safety which makes them vulnerable, the tribal and traditional Islamic values and reserved family cultures have brought inequality among both of them where women are inferior in the eyes of society.
Ganj Khatoon was all the way stuck with the severe vicious circle of poverty. Nevertheless, the other day one of her neighbors instructed about the Community Institution. Therefore, she decided to attend the dialogue which was directed by the member of the Community Institutions. She listened to the complete procedure said by the Social Organizer. The Social Organizer briefed the participants on the interventions run by the Baluchistan Rural Support Programme (BRSP) through the European Union in Pakistan funded Baluchistan Rural Development and Community Empowerment (BRACE) Programme supporting the indigents in the 8 disparate districts of the Balochistan.
Moreover, one of the key elements of the Sustainable Development Goals is the Gender-Equality which is not only a fundamental human right but a necessary foundation for peaceful, prosperous, and sustainable societies. One of the expected results under the BRACE Programme is Gender Mainstreaming. There is 50% of members of Community Institution and beneficiaries of socio-economic interventions are women, and 50% women beneficiaries reporting improved life skills, economic empowerment, enhanced mobility and leadership/management skills.
The target group under the BRACE Programme is men and women community institutions at community, village, and union council levels. At the community level, the focus of the gender input will be on training of both women's and men's community institutions, Community Organization, Village Organization and Local Support Organization (CO/VO/LSO) and community resource persons on gender issues, what they mean and why they are important.Additionally, sessions will include raising awareness on girls' education, women's decision-making at the household and community level, as well as engaging other disadvantaged groups in the community, i.e. the poorest and marginalized groups, the disabled and minorities.
Afterwards, a special focus shall be given to organize women members in community institutions and represent their representation in VO and LSOs as office bearers and general and executive body members; playing an active role in planning and implementation of activities for the development of their areas. Program staff and community leaders will be provided training on Gender mainstreaming, activities in communities of targeted areas. The women inclusion is 43% of Community Institutions (CIs) members and 52% of beneficiaries from Programme interventions are women as 50% of Community Recourse Persons (CRPs), 97% of Income Generating Grants(IGGs), 100% of Community Investment Fund (CIF), 50% of Technical and Vocational training (TVET), 32% pf Persons With Disabilities (PWDs), 100% of Adult Literacy and Numeracy Skills beneficiaries and 51% of Community Physical Infrastructure CPI (improved access to public-good interventions) beneficiaries are women.
Ganj Khatoon joint the Community Institutions (CIs) right after attending the community dialogue as a member of Community Organization (COs) which was led by the active Local Support Organization (LSO) named Socio-Economic Research Development Organization formed in January 2019 in Union Council Basima district Washuk.
Ganj Khatoon belongs to a poor family who identified as ultra-vulnerable according to the poverty scorecard which was only 10. After her husband's death, she runs the livelihood. She became quite familiar with the food ration and its prices. She was granted Income Generating Grant IGG assets, in the month of October 2019, which included Grocery items which cost 55,000 approximately. She opened a small store in her village and named Mukhlis (Sincere) General Store.
"I wake up early in the morning making breakfast for my children and prepare them for their schools. People and children mostly buy something in the morning so I try hard to make my children ready and keep the store open" said Ganj Khatoon happily.
Subsequently, Ganj Khatoon's life begins to change and brought a revolution in her village that women can do anything. Change starts from within if one has the courage to accept the reality and face the circumstances, Ganj Khatoon proved it well. She started earning from 800 to 1,000 per day. The support gradually enabled her to meet the daily needs of her children also admitted her children in Government School nearby in her village.
"I desirably want to expand my business and open a larger store if I save some more money from my existing business," said Ganj Khatoon.