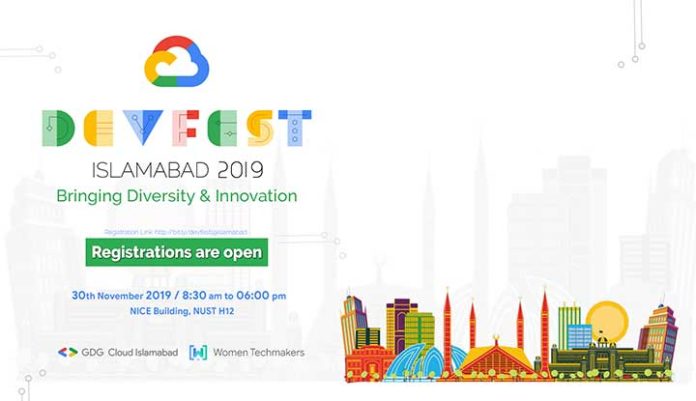 By: Usman Aslam 
This November Google Developers Group CLOUD Islamabad, in collaboration with Women Techmakers Islamabad,NUST ACM Chapter & NUST Entrepreneurs Club (NEC), is bringing Google's most anticipated flagship event to the twin cities. GDG Cloud DevFest 2019 will be enabling tech enthusiasts, developers, students to connect and engage with not only the top experts but Googlers and Google Developer Experts from across the globe!

GDG Cloud DevFest will be encompassing everything from technical workshops, interactive sessions to product demos by the top industries and companies. Moreover, GDG Cloud DevFest 2019 will be including a hiring challenge which will allow students and recent graduates to land on their dream jobs and get to know the corporate world better.

Cloud DevFest open for all!
This year DevFest is all about "Diversity & Innovation" giving people coming from different diversities, technical and non – technical, a chance to be a part of DevFest!

DevFest will feature hands on labs, tech talks and demos on the latest technologies such as Machine Learning, Internet of Things, Cyber Security, Artificial Intelligence and much more! Fun fact, for all of this you don't need to be some tech expert! Apart from that DevFest will feature loads of exciting activities for all to partake in.

What is GDG CLOUD Islamabad?
GDG Cloud Islamabad is first ever Google Developer Group for CLOUD in Pakistan. It is a local community for developers interested in resources and technologies from Google. GDG CLOUD Islamabad has been at the forefront of advancing the latest technological trends by holding various events and workshops around Google technologies.

When and where?
GDG Cloud DevFest will take place at NICE Building, NUST H-12 at the 30th of November from 8:30 AM – 6:00 PM (GMT+5).

How to register?
You can be a part of Cloud DevFest by filling the online registration form. For more updates on the event visit GDG Cloud DevFest 2019!