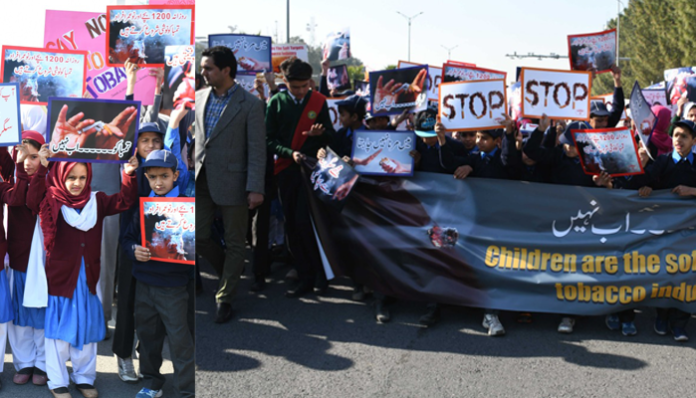 Islamabad: 27 February, 2019– Society for the Protection of the Rights of the Child (SPARC) organized a workshop on "Recommendations for child centric policy to prevent tobacco consumption among children" at 1030 hours on Wednesday, 27 February, 2019 at Islamabad Hotel, Islamabad.
Speaking to participants, Mr Sajjad Cheema – SPARC Executive Director said that considering the fact that the prices of tobacco products are still within the range of a minor, civil society organizations striving for better future generation of Pakistan is concerned with the situation. Heavy taxations on tobacco products will reduce the tobacco consumption and decrease the accessibility of minors to tobacco products. This will not only reduce the health bill of government of Pakistan and contribute to clean and healthy environment for future generations. We urge to Government of Pakistan to increase the tobacco taxations to save our children.
The participants expressed concern on emerging trends of tobacco use among children and youth including e-cigarettes and juul products keeping the fact in view that Pakistan's population consists of 60% people below the age of 25 where alarming statistics of young people getting addicted and at risk of tobacco consumption.
The participants demanded section 5 of the Prohibition of Smoking Ordinance, 2002 prohibits smoking at public place whereas section deals on disallowing smoking in public transport. There was a unanimous consensus that strict implementation of law and public vigilance is required to check tobacco use at public places including parks, transportation including public transport and restaurants whereas parents need to be made aware of harms of second hand smoking for their children.
The participants demanded that PEMRA should take the initiative of allocating 10 percent air time to the cause whereas a child task force at school level can be formed for peer to peer approach. Life skill sessions with children and parents and behavioral change trainings are required here.