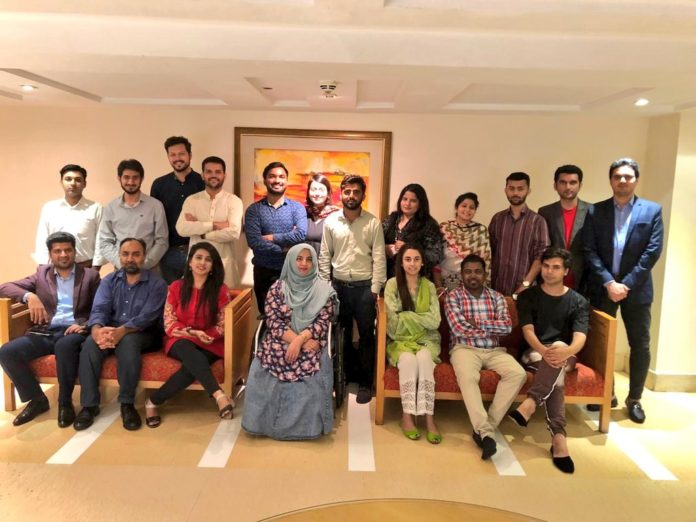 By: Maleeha Irfan Khan
LAHORE: In a bid to sensitize youth to aware masses about family planning to curb population explosion, Jhpiego, an "international non-profit health organization affiliated with Johns Hopkins University in collaboration with USAID and Nationa Youth Alliance on Family Planning – NYAFP, gathered youth from different organizations working on family planning and SRH, to have better understanding about population development issues. Around 30 young people with specialized focus on family planning and SRH from all over Pakistan came together to discuss and develop the National Youth Narrative on Family Planning.
A day long session was hosted by Dr. Afshan I. Ameen, Dr Azam Muhi-ud-din and Nauman Munir Alvi from Jhpiego. The session was kicked off by Jaushwa Dilawar, coordinator of the National Youth Alliance on Family Planning (NYAFP) and moderated by Fsahat-Ul-Hassan, CEO of Youth Advocacy Network (YAN).
Experts from Jhpiego shared their expertise and facts regarding family planning and health services in Pakistan. While telling one of the many reasons of population explosion Dr. Azam told that unmet need is one of the cause and it is due to lack of awareness about contraceptives, misconceptions about the use of contraceptives, unavailability of health services or accessibility problems to health services and different taboos associated with family planning in the society. "Pakistan has one of the highest maternal mortality ratios in South Asia and every 30 minute a mother dies", Azam said.
Fsahat-Ul-Hassan also shared about the objectives of National Youth Alliance on Family Planning which was formed in the light of Supreme Court's action by former Chief Justice Saqib Nisar to take up the matter of high population growth rate in the country, to control the burgeoning population. The session was also attended by representatives of the member organization of the alliance and individuals working on FP and SRH.
"Use of technology is imperative to aware masses specially women about health related issues and their solutions" said Tanzeela Khan, working for the rights of young people with disabilities.
The session was concluded with a commitment to engage youth in population related work and a youth narrative was developed by the participants to have deeper knowledge of the issue and to work with more enthusiasm taking different youth organizations onboard.
From our Print Edition