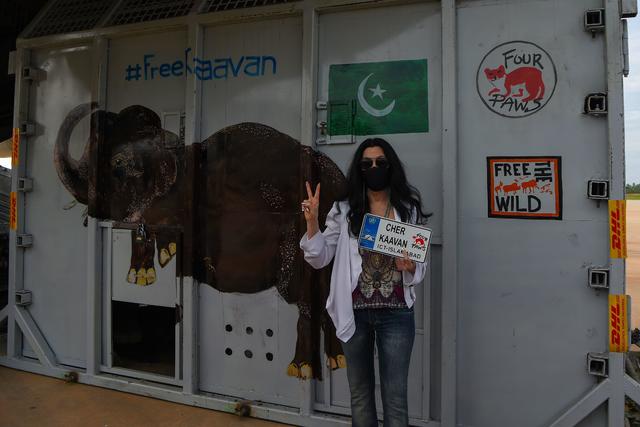 By: Asem Mustafa
Kaavan after 35 years of abuse, gets a life and thanks to pop music icon Cher who was there to see him off in Pakistan and then welcome the 'world loneliest elephant' in Cambodia.
He has been tortured, beaten, chained and what not but he survived all and his aggression towards the Islamabad zoo authorities bespoke the suffering he went through as baby elephant and then reaching the adulthood.
He was sent as a presidential gift from Sri Lanka to then president General Muhammad Zia-ul-Haq who died in a plane crash. Kaavan though brought joys in the lives of many children but his misery, unheard screams and rolling tears were never noticed. He was an object that was considered a burden and for years he went through the unfathomable misery. His plight raised an international uproar and for years his quest was placed before the court and finally Kaavan release happened.
Oscar winner and pop icon Cher landed in Pakistan especially for Kaavan and met with Prime Minister Imran Khan and prior to that President Arif Alvi visited the Islamabad zoo to see off the presidential gift.
Observers believe the negative image which was portrayed by the Islamabad Zoo could have been curtailed had the people at concerned offices had the skills to deal with the situation.
The court intervention in relocation of the animals in pitiful conditions had its costs and lion pair in their relocation paid the price in the form of their lives. The two died as people who were dealing with their transfer ensured that the creatures don't survive and it happened. The video is available on social media which depicts the skills of the handlers who for years enjoyed the government salaries and perks and when for once they were asked to do a job they made sure they should never be asked again.
The lions murderer are still at large and 'land of the pure' has murderers who have killed many a humans and are scot-free the lion killers come way down the order.
Kaavan in a way exposed the entire system in the country as how humans as in masses and animals who have nowhere to turn to are treated.
Presidential gift and presidential pardon is what Kaavan was granted and this scribe along with many others are happy that the he has survived the ordeal which could have cost him his life years ago.
Stay well and stay blessed Kaavan-You stood up and survived while many have died before they could even stand.