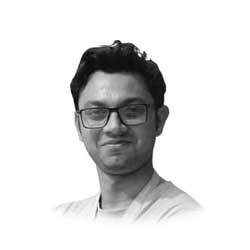 By: Sultan Ul Arifeen
Noam Chomsky, in his conversation with David Barsamian, when asked about the reasons behind the failure of the education system in the developing world, stated, "Despite what they (men in power) may claim, they basically require schools to teach to test. They control teachers and make sure that they do not move in independent direction." This has, for long a time, been a case in Pakistan. From farce lies taught in the text books to the undisclosed scientific facts, the education in Pakistan is in rags. But who is to be held accountable for this?
In general, there are two kinds of education systems. First, a unidirectional system designed to inculcate molten version of truth in the minds of young people. This is, so they can be controlled straightforwardly and linger on the helm of political elites. Second, a holistic system, where a learner is directed to find his own truth, without any constraint. It does not matter in this system that learner's version of truth does not match with those of his instructors.
Pakistan regrettably follows the former. In, an unfortunate attempt to subjectively confiscate the voice of the free, Punjab Government on July 23rd, 2020 presented 'The Punjab Tahaffuz-e-Bunyad-e-Islam Bill 2020', which both treasury and opposition lawmakers passed unanimously. The law vests indefinite powers in the DGPR to visit any printing press and ban any book, before or after its publication, which he deems it to be against the national interest of the country. Every publisher and importer of the books is bound to forward the list of published or imported books towards the office of DGPR. Whereas, publishers are also directed to deliver four copies of every book published under their house.
In response to the given law, on Thursday, Punjab Curriculum and Text Book Board (PCTB) started scrutinizing ten thousand books out of which a hundred books of private school, which allegedly contain blasphemous and anti-Pakistan content, have already been banned. As per sources, a Mathematics' book was banned on the red herring of it containing the picture of a pig, while another one, containing the picture of Mr. Gandhi. It is reported that thirty one of the banned books are from renowned publishers like Oxford and Cambridge. Furthermore, the Biology text books of tenth grade have explicitly denied any version of evolution. Not only that, a recommendation for invalidating the chapter of reproduction is also in order. These acts are set to rescind the future of entire generation and their ability to analyze a subject by observing its merits and de-merits.
Pakistan, comprising almost sixty per cent of young population, already lacks in providing opportunities to its youth, so as to develop their political acumen. And to add insult to injury, this law is objectively designed to expropriate the opportunities available right now. For this matter, government needs to find strategies other than to appease the bulk of masses into religious doctrines. Increased inflation and economic failures coupled with administrative incompetence cannot be shielded behind such laws. Moreover, proscription of the mobile apps, digital platform and books is not a pertinent response to the crisis, rather the opposite of that. A huge number of youth, deprived of job opportunities from government, is earning good amount of capital from such platforms. Therefore, it is not in the interest of nation to place a bar at such forums.
Moreover, understanding the literature, opposite to one's felicity is equally important. In the words of Sun Tzu, "If you know your enemy and yourself you need not to fear the results of a hundred battles. You know yourself but not your enemy, for every victory gained you will also suffer a defeat. If you neither know your enemy nor yourself, you will succumb in every battle." Thereby, any law that deprives people of this prospect is not in the bona fide interest of the country.
 In the long run, the nations which have progressed; they have done it by embracing their past. Instead of savoring the bygones and showing a magnified version of it, they have chosen to clasp a real image of their history. In that respect, Pakistan cannot match the ranks of developed world unless it continues to its romance with its vilified past.
The writer is student of political science. He can be reached at [email protected]