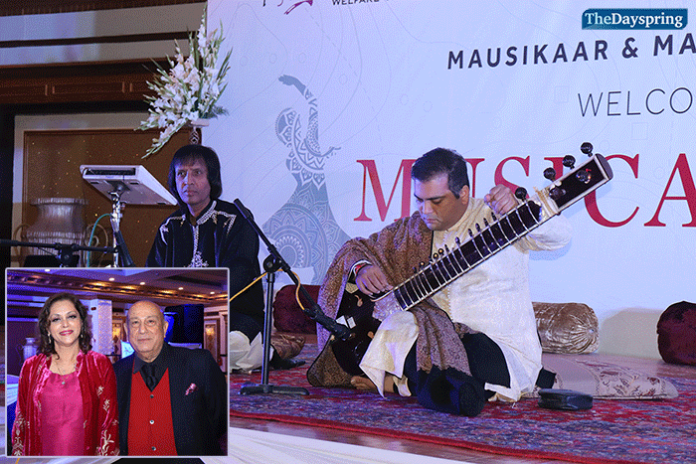 By: Atle Hetland
Dr. Seema Khan established 'Mausikaar Welfare Trust' eleven years ago. She lives most of the time in England, but visits relatives at home several times every year and combines that with hosting music events. She works with a board of half a dozen music enthusiasts. Omar Durrani of Omar Travels along with other well wishers, especially in the private sector, are important sponsors of activities, which include concerts with known and unknown artists, training of musicians, financial help to needy artists, for example, for medical purposes, and other things.
          A few weeks ago she hosted a large event in Islamabad's Marriott Hotel, and after that, there was an event in the auditorium of the Pakistan National Council of the Arts (PNCA) honouring Ustaad Baray Fateh Ali Khan.
"I am impressed by the important work of Mausikaar. It is essential that the country's musical heritage is nurtured and kept alive. It is also important that events are held to include the diplomatic community and other foreigners", said a foreign ambassador, who is a regular at the concerts.
"Pakistan has rich and varied musical traditions, but often the musicians' livelihood is meager, even for the famous singers, players and dancers", said a Pakistani guest.
She said: "I was pleased when Dr. Seema Khan at the large event with young singers and dancers said that women, and men, should always do what they have a passion for and really want to do, even if some people may criticize them."
"In future, I hope that more young people will be seen in the Mausikaar audience. They are the ones who will carry the cultural traditions with them, and they must learn to be proud of their country's traditional music and dance", explained a guest at one of the events.
Dr. Seema Khan said that she wanted to invite groups of young people to attend, from college, universities and other groups. "It is essential that we have young people as active participants, as performers and as members of the audience. Young people must listen to traditional music and learn to appreciate it. They must not only listen to modern sounds and styles, although that is important, too", said Dr. Seema, soon going back to her patients at her clinic in England.
"In the UK, I have often been pleased when Pakistani singers and musicians come to perform to local British audiences. I am proud to see how proud Pakistanis are of their musical heritage, and it warms my heart to see how interested ordinary Brits are, and indeed musicians in the UK", said Dr. Seema Khan.