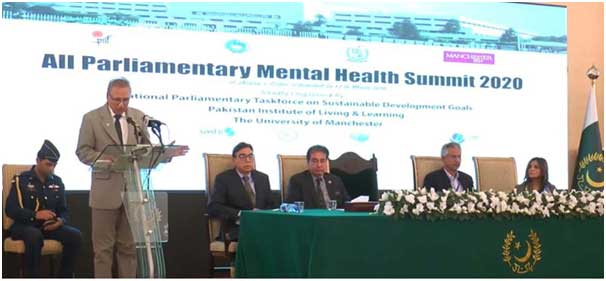 By: Our Editor
ISLAMABAD: The first All Parliamentary Mental Health Summit 2020 was jointly organized by Parliamentary Task Force on Sustainable Developmental Goals, Pakistan Institute of Living and Learning (PILL) and the University of Manchester at the Aiwan-e-Sadar and Pakistan Institute of Parliamentary Services, Islamabad.
President of Pakistan Dr. Arif Alvi was the chief guest of the event. He acknowledged the SDG task force initiative, the work of PILL in improving health and wellbeing of people of Pakistan and the support from the University of Manchester. Mr. President stressed about the importance of communication and social support and he also suggested that there is a need to establish a helpline for those who need psychological help.
Convener Parliamentary task force on SDGs Mr. Riaz Fatyana requested experts Professor Nusrat Husain and Professor Nasim Chaudhry to make policy guidelines for legislation and to develop national mental health policy for Pakistan in consultation with all stakeholders. While speaking to audience, Professor Nasim Chaudhry, CEO, Pakistan Institute of Living and Learning (PILL) talked about the world'slargest therapist delivered intervention on self-harm and suicide prevention, Culturally Adapted Manually Assisted a Brief Psychosocial Intervention (CMAP) (MR/N006062/1)which was completed last year. She also talked about a further very large trial on youth self-harm and suicide prevention being carried out by PILL in partnership with the University of Manchester (MR/R022461/1). She also talked about research capacity and capability in Pakistan particularly in the area of suicide prevention (MR/E028144/1).
Professor Nusrat Husain, Professor of Psychiatry, Director Research, Global Mental Health at the University of Manchester, UK talked about high rates of maternal depression, maternal deaths, abounder five child mortality and abortions in Pakistan including high rates of self-harm and suicide. He also talked about the Learning Through Play (LTP) Plus Thinking Healthy Programme (LTP Plus – GCC0821-05) which not only markedly reduced maternal depression and suicidal ideation but also improved child social and emotional development. Professor Husainemphasised on the need for working together and developing partnerships in achieving SDGs 2030. He referred to SDGs goal-17 which calls for greater collaboration amongst health and academia, social enterprises, government and non-government sectors, voluntary agencies and the community to better understand, prevent, manage and treat mental health problems. Professor Husain said considering great support of the President there is a unique opportunity to learn from research in Pakistan and gain input from national and international stakeholders to plot a road map for the National Mental Health Strategy/Policy and implementation plan to achieve the SDG's 2030.
The summit was attended by a number of senior health and non-health professionals across the country including expert panel discussions using a life course approach to present mental health research from Pakistan and invite key stakeholders to initiate discussion for the development of the National Mental Health Strategy and its implementation plan. The Panel discussions were on the following five thematic areas including Preconception, Pregnancy and Mental Health Urdu), Postnatal Mental Health and Early Childhood (URDU), Health and Wellbeing of Young People (URDU), Health and WellbeingWorking Adults & Health and Wellbeing of Older Adults (URDU).
The summit ended with an agenda to organize a total of six face to face or virtual meetings, one every three months, over the 18-month period until October 2021, at which time the National Mental Health Strategy and the implementation plan will be presented to the National Assembly and allProvincialAssemblies; and Preparation of a preliminary report to be presented in October 2020 to the Parliamentary Task Force on SDGs.