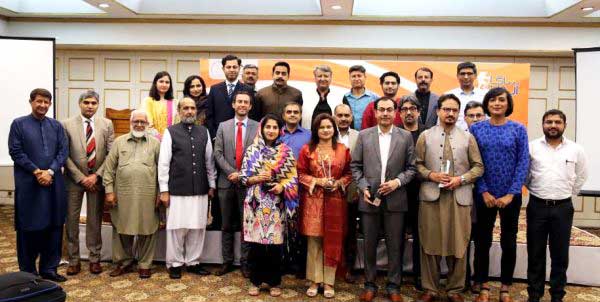 By: Atle Hetland
Pakistan Institute of Peace Studies (PIPS) organized the 'Pakistan Saga Awards 2019' ceremony recently, celebrating pluralism, diversity, minority rights and harmony. Chief Guest on the occasion was Andreas Wutz, the newly arrived head of the political section of the German Embassy in Islamabad.
The PIPS director Muhammad Amir Rana said in his welcoming remarks that the Saga Awards event aims at showing aspects of society and people, who are generally hidden and not praised.
The film winning the 1st prize was made by Samar Khan, Peshawar, about a girl, Saba Gul, who at the age of three had lost her arms and hands at an electrocution accident. But she did not lose her interest in life and education. While she has no hands, she has learned to write with her feet, and she is today one of the best students in her class.
"The girl is also very good looking", said a woman in the audience, adding that she found the film very moving, giving important messages to us all.
"The event was certainly informative, with films about equality in education, including for persons with physical handicaps, different faiths, and transgender persons", said another participant. "I also enjoyed the substantive speeches given by several experts who had been invited to the event."
A very good film was about students of different faiths studying in the same school in the Christian Colony in Peshawar. The film, which won 3rd prize, had been made by Abdullah Malik.
The Vice-Chancellor of Sargodha University, Dr. Ishtiaq Ahmad gave an elaborate historical summary of the importance of Christian organizations' role in education. He said that in KP and elsewhere not only Muslims, but also members of other religions contribute to quality education in the land.
Amar Bilal's film about the first transgender radio host, Kashish, won 2nd prize. He has also established an organization named 'Khawaja Sarey'.
In his speech, the director of the Council of Islamic Ideology, Dr. Qibla Ayaz, underlined the legal rights that everyone has to claim the gender they identify with, termed 'self-assumed identity', not that based on medical examination or physical appearance.
In total, there were 120 films submitted for consideration. In addition to the three award-winning films, there were two 'runner-up' films. One was made by Maimoona Malik, about what is being taught to non-Muslim children about Islam in Pakistani school. The other one was made by Ali Hassan Khwaja about a woman, Abida Bibi from Sialkot, who is sitting outside Waheed Plaza on Jinnah Avenue in Islamabad stitching footballs.
At the pleasant tea session concluding the event, Lynley Ruth Butt, a trained opera singer and music teacher, originally from New Zealand, said she had enjoyed the programme very much, indeed the music interludes with violin and other instruments.