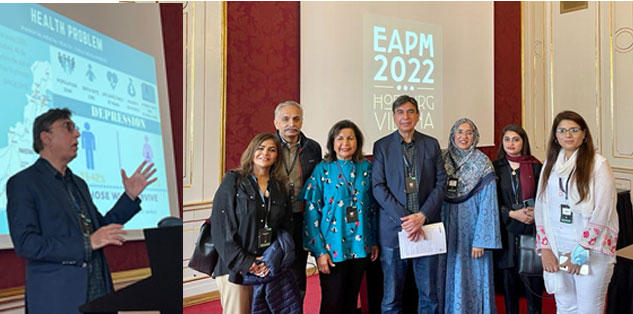 NEWS DESK
ISLAMABAD: Pakistan Institute of Living and Learning (PILL) was delighted to participate in the 2022 EAPM Conference Vienna held between June 8th-11th at the Hofburg Palace, Vienna in Austria. The theme of the conference was "New Challenges – New Approaches", in which the PILL team made valuable contributions to the mental health research landscape by presenting world leading studies from Pakistan.
Prof Nusrat Husain, Professor of Psychiatry and Director of Research Global Mental Health, Division of Psychology and Mental Health at University of Manchester, presented an overview of the Grand Challenges Canada (GCC) funded (GCC- LTP+DADS- R-TTS-2106-39652)Learning Through Play Plus Dads (LTP+Dads) project. The LTP+Dads project is a partner inclusive low-cost group parenting program for depressed fathers which is being conducted across the city of Karachi. A total of 2880 fathers, 2160 mothers are being trained in the LTP+ programme and a total of 4000 community health workers are trained across Pakistan.  
Prof Nasim Chaudhry, CEO PILL, spoke about the role of mHealth projects in reducing depression in Pakistani mothers and improving child outcomes.
Dr. Munazza Obaid addressed the audience on MhGAP (Mental Health Gap Action Programme). This project is working on the adaptation of the WHO MhGAP Intervention Guide for the Pakistani population to help resolve treatment gaps for depression and self-harm in Pakistan.
Research Associate, Muqaddas Asif talked about the huge issue of tobacco use amongst depressed fathers in Pakistan. She stressed on the need to develop culturally relevant psychosocial interventions for the Pakistani population.
Sehrish Irshad, Research Associate, displayed a poster presentation on SEPAK (Suicide Prevention by Empowering Adolescents in Pakistan) which is a culturally adapted suicide intervention program to train teachers and healthcare professionals in managing suicidal behaviour in Pakistani adolescents.
Bilal Arif, Research Assistant, presented the ground-breaking work developed by PILL; the mental health awareness program for paramedical staff in Karachi Central Prison. Mental health concerns in prisons are of urgent importance and the inadequate training and healthcare services in Pakistani prisons warrant Implementation Research (IR) on immediate intervention strategies. In his presentation, he shared the barriers, challenges and positive outcomes of the PILL training program which aimed to increase mental health awareness amongst prison staff.
The main goal for PILL's participation in the conference was to showcase to the global audience, the cutting edge research from Pakistan and to strengthen international collaboration and networks with researchers, academics, practitioners and teachers in the field of mental health research, teaching and training.