19th International Asia Pacific ICT Alliance (APICTA) Awards were held in Ha Long, Vietnam from 18th to 23rd November, 2019. APICTA Awards are known as a stepping stone for member economies to get exposure and recognition for their ICT innovations on an international level. The awards not only promote the development and deployment of ICT solutions but also facilitate in trade, business matching, technology exchange and collaborations. APICTA consists of these 16 leading economies of the region: Australia, Bangladesh, Brunei Darussalam, China, HongKong, Indonesia, Japan, Macao, Malaysia, Myanmar, Pakistan, Singapore, Sri Lanka, Thailand, Vietnam and Nepal.
Pakistan Software Houses Association ([email protected]) represents Pakistan at APICTA by taking the official delegation of winners and runner-ups from [email protected] ICT Awards 2019. [email protected] ICT Awards have been acting as a doorway to APICTA for the Pakistani ICT talent. The Pakistan Team was represented by a total of five judges; Syed Ahmad, Barkan Saeed, Talhah Munir Khan and Head Judge Badar Khushnood under the leadership of Senior Vice Chairman [email protected], Syed Ali. Nine nominees participated from Pakistan representing Karachi, Hyderabad, Islamabad and Mardan.
The Pakistan team succeeded in securing 1 Gold Award and 2 Merit Awards, ranking 6th amongst 16 countries. Astera Software won the Gold Award in Professional Services under the Business Services category. Duck Game and BaseCamp IT Solutions received Merit Awards in Student category (Junior) and Inclusions and Community category (Regional, rural and remote services), respectively.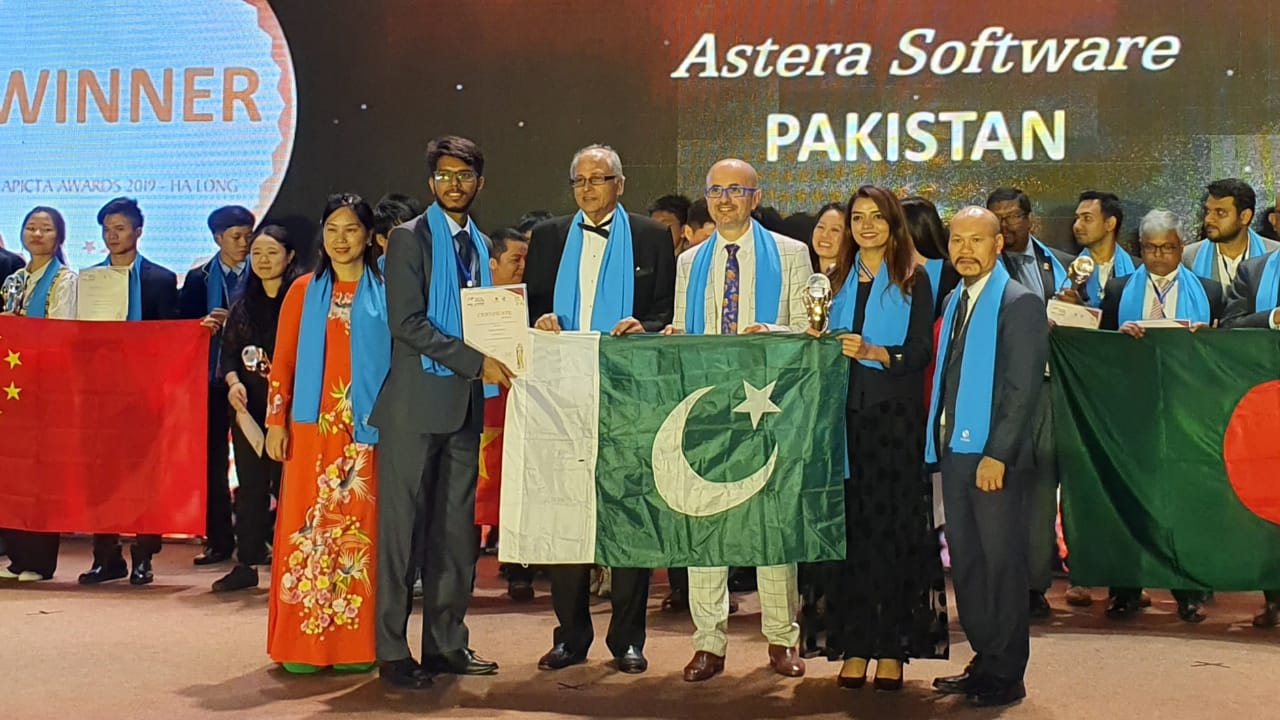 Syed Ahmad, Former Chairman [email protected] stated, "The Merit Award for Duck Game was won by the 13 year old Abdullah Khan Swati from Government High School, Labrkot, Mansehra, which is a very proud moment for the nation. There are many others like Abdullah who don't even speak Urdu or English but can beat international students in coding competitions. They are the real wealth of Pakistan and we need to invest everything we have in these children."
Head Judge, Badar Khushnood stated, "Despite being a small delegation, Team Pakistan has proven itself by its determination and brilliance by securing these awards and participating with such excitement and energy. The success story of Team Pakistan has been propagated very actively through [email protected] this year and I can assure you that the representation from Pakistan is only going to get bigger each year"