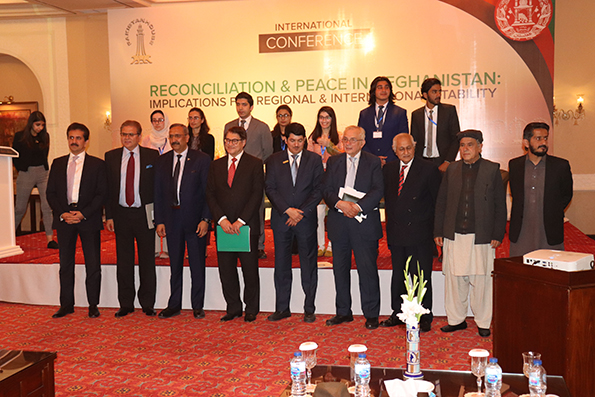 By: Atle Hetland
Rana Athar Javed, director-general of Pakistan House, a local think-thank, welcomed diplomats, students and researchers to a packed Shamadan Hall at Serena Hotel in March for an international conference entitled 'Reconciliation and Peace in Afghanistan: Implications for Regional and International Stability'.
"The old men spoke and the students listened", said a foreign participant. "They spoke well, but I would have like to hear more from the audience, most of them young students", he said.
The keynote speaker was Ambassador (r) Ashraf Jehangir Qazi, Pakistani's ambassador to USA 2002-2004, soon after '9/11' and the American invasion of Afghanistan. The Pakistan House conference was held as USA is now eager to pull out of, or reduce its presence in Afghanistan after a war lasting for close to two decades. Several speakers said that USA wants to end the war, but it is not leaving Afghanistan. It was also said that the cost of the war to USA is currently relatively modest seen in relation to the superpower's presence in many other places in the world.
The war began to oust the Taliban regime from power, which was achieved in a short time. However, the war went on. Now, it seems inevitable that the Taliban will play a political role in the future of Afghanistan. It was also said that the Taliban today have become more moderate.
Speakers warned against foreign extremist groups wanting to play a role in Afghanistan in future, inter alia, due to defeat of ISIS in Syria.
About Pakistan's role in Afghanistan, several speakers stressed the important role Pakistan can play as the most important country in the region. China and India have interests in Afghanistan, but there seems to be less clarity as for what these interests are, except for trade.
The dean of the diplomatic corps, Turkmenistan's ambassador Atadjan Movlamov attended the opening and first session of the conference, while some other diplomats and military attaches also attended the further substantive sessions. Students and researchers patiently attended the full conference, rewarded with a full buffet dinner quite late in the evening, and more discussion and socializing.