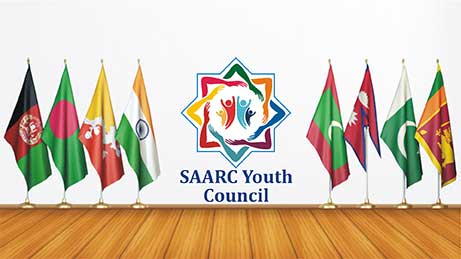 SAARC Youth Council, on Wednesday August 12, organized a SAARC level Online Panel Discussion on Contemporary Youth Issues commemorating International Youth Day, 2020.
The Online Panel discussion was attended by 150+ youths from SAARC Region. During the one and a half hour long discussion, the participants enjoyed different views on contemporary issues such as education, youth participation in policy making, sexual and reproductive health and mental health issues.
Ms. Stella Mainali, a youth leadership facilitator from Nepal and Ms. Kuenga Lhaden, a youth icon, Miss Asia Bhutan, and social activist from Bhutan were present as the panelists of the event. Mr. Ahmad Nisar and Mr. Zafar Waseem, governing members of the council, moderated different sessions of the discussion which was hosted by Ms. Gajithira Puvanendran, governing member of the council. The panelists shared their journey, vision, ideas and impediments they faced while implementing their actions that were calling towards social change.
The audience was actively engaged and shared their questions about how the youth can contribute to global action, especially in the time of pandemic and mobilizing them in the policy making and representation. The speakers emphasized about the need of such platforms which can bridge the gap between SAARC region and the youth of their nations for the betterment of society.
The theme of International Youth Day 2020 was Youth Engagement for Global Action. On the welcome note, Lakshay Chhabra, governing member introduced SAARC Youth Council as a regional initiative to connect youths across the region, supporting and advocating for an enabling environment that facilitates the active participation and influence of young people in the decision-making processes.
On the closing remarks, Prajesh Khanal, the Chairperson of the Council emphasized the importance of including youths into mainstream of our thoughts and processes, as the youths are not only the pillars of future but also the vanguards of the present.
Token of appreciation was presented to the esteemed panelists by the Governing Board of SAARC Youth Council.