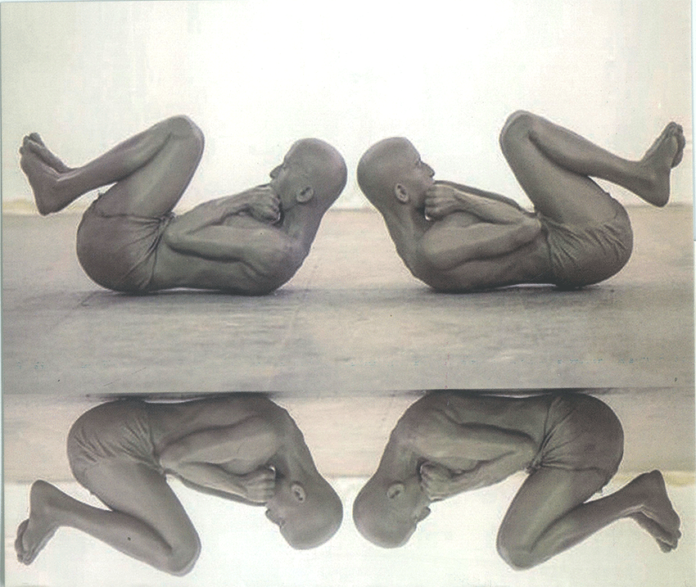 By: Atle Hetland
"Suspended Horizons" is the name of an art exhibition at Satrang Gallery, Islamabad Serena Hotel, which was inaugurated by the World Bank country director on 29 March, remaining open till the end of April.
The seven young artists have graduated in fine arts and miniature painting from the National College of Arts (NCA) in Lahore and Rawalpindi. Marwat Hidayat, who hails from Lakki Marwat, took fine arts but specialized in sculpting. His works were indeed prominent at the Satrang Gallery exhibition, indeed his two life size men made in fiber glass, lying on their backs in restrained positions, referring to people's relations, which are often based on power play, disconnect and a feeling of helplessness.
The other artists are Seema Mangi from Larkana in Sindh; Muhammad Jawad from Quetta, Afreen Fatima living in Islamabad; Omair Mirza living in Islambad; Maiha Fauzan, who is living in Islamabad but from a 'nomadic' military family. Asghar Ali is from Quetta, belonging to the Hazara ethnic group.
The Satrang Gallery director, Asma Khan, said at the opening that she was delighted to show works by the talented, young artists. "They try to find a balance between states of being and the conscious and unconscious mind. They explore the layered undercurrents shich surround societal and personal interactions, which filter down into and individual existence", said Asma Khan at the exhibition. The exhibitor curator is Zahra Khan.
"The exhibition gives the spectators a possibility to see the world from new angles, and reflect on issues, also on art forms", said a foreign guest at the opening. "I am glad that Satrang Gallery gives young and talented artists a chance to exhibit their works, and I hope they can also find work and make a living. That may not always be easy, unless they go into teaching and make their own creative production a part time activity", she added.