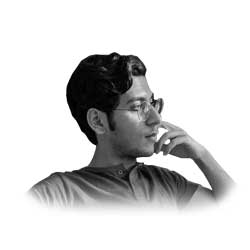 By: Mustafa Shaukat
Kashmir has undergone a communications blackout. Mothers have been unable to contact their children in schools. This all has come as a consequence of an encroachment of Indian forces beyond the line of control in Kashmir. Article 370 of India's constitution has been breached; the article declares Kashmir having a 'special' state status and grants the following powers:
1. It exempted the State from the complete applicability of the Constitution of India. The State was allowed to have its own Constitution.
2. Central legislative powers over the State were limited, at the time of framing, to the three subjects of defense, foreign affairs and communications.
3. Other constitutional powers of the Central Government could be extended to the State only with the concurrence of the State Government.
4. The 'concurrence' was only provisional. It had to be ratified by the State's Constituent Assembly.
5.      The State Government's authority to give 'concurrence lasted only until the State Constituent Assembly was convened. Once the State Constituent Assembly finalized the scheme of powers and dispersed, no further extension of powers was possible.
6. Article 370 could be abrogated or amended only upon the recommendation of the State's Constituent Assembly
The breach of Kashmir's previous line of control came after Union Minister for Home Affairs Amit Shah on 5th August announced in the Indian State Council that Article 370 of the Indian Constitution is to be abrogated under the Constitution Order, 2019 signed by President Ram Nath Kovind.
After the blackout and breach of the Line of Control protests broke out inside of Kashmir. Following this a video recorded by BBC reporters surfaced showing the use of tear gas by Indian forces on the local Kashmiri populace. Despite this the Indian government claims that no such incident has taken place.Furthermore there have been reports of political leaders in Kashmir being detained and children not being able to attend schools in fear of further aggravated incidents.
Pakistan requested a Security Council meeting in a letter on August 13 and it was subsequently called for by permanent member China. On 16th August Envoys from India and Pakistan traded barbs outside the United Nations Security Council chamber, after members met behind closed doors for rare talks on the disputed region of Kashmir.
In recent days it has been falsly reported by Indian media that the blackout is reducing and more people are being able to use resume communication services.
These events now beg the question: what is to come next?
The first and primary consequence of India's action is that economic and social activity in Kashmir will continue to be crippled. There are locals unable to safely access food as a consequence of communication with vendors being cut off. Moreover, offices and companies operating on any form of major communication network are being hampered by having to hault operations. Adding to this climate of uncertainty and fear, militarization in Kashmir is at an all-time high. This has led to injuries in skirmishes of the military with the local population and contributed to a feeling of insecurity amongst the locals. In response to this, many Kashmiri families are not sending children to school in fear of outbreaks.
A solution being prolonged means these impacts to the local populace are to be amplified. It is important to take timely action as the lives of millions of innocent civilians are being egregiously disrupted.
The second consequence of the Indian government breaching article 370 of its constitution it is acting as an illegitimate state. It is doing so by claiming control over disputed territory and attempting to run parts of Kashmir directly from New Delhi, India's own federal capital. The question then is how far the international community recognizes Indian actions as illegitimate and works to condemn them. Actors in the region like China have shown support for Pakistan inside the UNSC by supporting Pakistan's call to have talks on the matter. Following which, Maleeha Lodhi, Pakistan's ambassador to the UN, said the council's first meeting on Kashmir in more than 50 years was only a "first step" that Pakistan would take in support of the people of Kashmir.
India continues to maintain its stance claiming that Kashmir is an "internal" matter that is not up for debate to the international community. This opinion is seconded by Dmitry Polyanskiy, Russia's envoy to the UN, who said Moscow was concerned by the crisis but added that it was a "bilateral issue" best tackled directly between New Delhi and Islamabad.
The continued lack of engagement and prompting by the international community might mean that India could be allowed to manipulate the Line of Control inside of Kashmir. This is likely to be done by establishing a false sense of normalcy through reducing the communications blackout but not reducing militarization in the region.The last consequence of this is a continued impact on the countries in the surrounding region to Kashmir.
India and Pakistan are likely to maintain militarization in the region which is likely to keep tensions high. As a result, both countries are likely to have to funnel continued resources (Financial and otherwise) in order to prevent further damage to the region. This is likely to be a prolonged drain on both these economies and Pakistan, which is currently also suffering from lack of funds for development projects inside the country, is likely to be bearing the shorter end of the stick in this feud.
Moreover, China and Pakistan trade via the newly constructed Karakoram Highway, which connects the countries via the western Kashmir region. As part of the multibillion-dollar China-Pakistan Economic Corridor (CPEC) project, this former gravel road is currently being developed into a multi-lane asphalt highway that can be used all year long. This means that there is likely to be continued Chinese involvement in the international community to solve this issue however the question remains whether this support is going to be enough in countering other members claiming Kashmir to be an internal matter.
Kashmir needs a multi-lateral solution and it needs it now before Kashmiris are forced to evacuate their area or be economically crippled further.
The writer is a student of Westminster Academy Islamabad, he can be contacted via facebook/shaukat.mustafa01