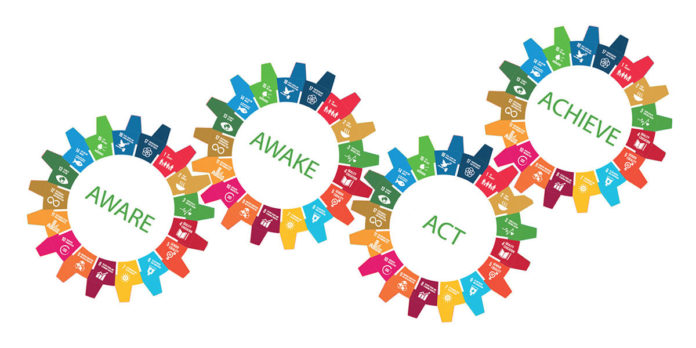 By: Shahmir Khan
"Nahin Hai Na-Umeed Iqbal Apni Kisht-e-Weeran Se
Zara Nam Ho Tou Ye Mitti Bohat Zarkhaiz Hai Saqi"
ISLAMABAD (Report): The issues of the modern days demand an active participation of youth in every orientation, while the arrangements of modern-day problems have wielded responsibility of a stable nation on the shoulders of our youth. United Nation Development Program (UND P) has launched the Sustainable Development Goals (SDGs)that highlight such modern-day problems. However, majority of our youth is unaware of such issues. Youth Squad for Progressive Pakistan (YSPP),an organization consisting of young talent, has set an alarm and it is taking responsive actions on seventeen SDGs' that need to be attained by the year 2030. The SDG goals are numbered according to their importance and "Good Health and Well-being" is ranked as the third most important one, identifying the snags that exist in social community and provide practicable solutions. This article will highlight my recent visit to an orphanage that bolstered me to think how underprivileged yet talented children in our community do not have basic facilities, deprived from the fundamental rights, and are struggling with educational as well as financial opportunities with no guardian.
On 06 July 2019, YSPP left its seat to confront social issues as well as spread awareness about SDGs. The team reached Noreen Welfare Trust around 12:00 p.m. When the door was unlatched, we were welcomed by Ms. Laiba who then introduced us to the children. The ice-breaking with these young blossoms went smooth enough to develop a quick friendship bond with them. Seemab and Gul e Laiba, members of YSPP,distributed several gifts that included Ludo, Foosball, Carrom board, sketch books, paints, colors etc. To get acquainted and to make children comfortable, every member of YSPP participated in this activity. At the end of this activity YSPP team along with those little blossoms offered Zuhr prayer followed by a brief lecture on Islamic teaching. The lunch was then served and plates were shared amongst each other to create a homely atmosphere.
The clock almost struck 02:00 p.m. when everyone was done with their lunch and it was time for our second activity i.e. coloring competition. Colors and sketch books were distributed amongst the children and they started coloring their favorite cartoon figures. This activity was also overlooked by the YSPP team.
As soon as the children finished coloring their sketch books, it was YSPP's turn to add some hues, saturation and filters to their day. It was time for the third activity: Birthday celebration. Mohsin and Saim, who had their birthdays on the same day, were distracted in other room, while rest of the team started preparations for their birthday. YSPP members, Zarish along with Dua,decorated the walls with balloons and stickers that read as "happy birthday", and birthday cake was placed on table. Birthday boys were then asked to wear cone-shaped hats and were called in. Smiles glooming on each face, harmony in voices and sparkling eyes of Mohsin and Saim: it was time to cut the cake.
To make this day even more memorable, Gul-e-Laiba and I painted the young faces with flags, moustache, beard, cartoon figures etc. All these astonishing moments were captured in camera by Saad and Talha.
So, the day passed and clock struck 04:00 p.m. when we were surrounded by complete silence. I could hear the clock ticking second by second. It was time for us to say goodbye to the young blossoms. I never thought it would be so hard to leave that place where we entered as strangers and were now leaving as a family.
The moment YSPP team left Noreen Welfare Trust, I had this thought going on my mind that there are hundreds of children in our society with fewer facilities, less care, and no opportunities. What about their dreams? What about their future? What about their life? This thought brings forth an imbalanced stance that we have as a society. We make up this nation and everything we do adds up to its definition. YSPP and some other organizations are providing a platform where people can join hands together and take actions on such plights.
But how long will it take for us to realize it and join hands?
What would it cost? A joint effort and a lot of hard work.
What will be the outcome? Achievement of goals, enhanced learning, a better tomorrow and A BETTER PAKISTAN.