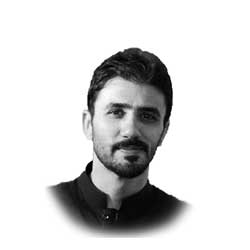 By: Mohsin Ullah 
I was sitting in a café in Islamabad and observed that a person was looking and staring at a girl in a flirtatious way. I was observing his gestures, when the girl took her coffee, the boy approached her and after a little conversation. He came back to his table and joined his friends with a dialogue "Do takkay ki Larki" She refused to have a cup of tea with me. The boys started laughing and then one of his fellows motivated him and wished him a better luck for next time. My friend told me that do you know about "Do takkay ki Larki"? He explained about the trending dialogues of "Do takkay ki larki". Then I came to my comfort zone, turned on my WiFi and searched for it and found that it was a dialogue of Pakistani Drama "Mere Paas tum ho."
I started to watch its episodes one by one; it was a story of a middle class nuclear family, happily married couples with one child. The couples had a love marriage after fulfilling their university degree; the hero was doing a clerical job and was sincere with his duty. His wife had some good university elite class friends and she also wanted to spend luxurious life. She tried her best to convince her husband for corruption to earn more that she could go for shopping and buys all what she wished for. Finally she succeeded to convince her husband for signing illegal certificates. He got some money by doing corruption and he started to worry about that money. He was sleepless, he was thinking about the cupboard, he locked the door; he was worried about theft and robbery. The psychology of wealth is complex, being wealthy can make people believe they have more control over their lives, but it can also control them emotionally. A degree of fear started in his life. He was afraid of the money, how it might corrupt him for the whole life. Next morning he returned the money to his officer and said I cannot digest the money of corruption. After few days they both attended a wedding ceremony, where they met a wealthy business man "Shahwar." Shahwar belongs to an elite class family and was doing business with his wife. His wife was residing abroad and he started conversation with "Mehwish" (wife of Danish). He offered a job to Mehwish in his company, they started a relation. After few days the gold digger Mehwish finally got divorced from her husband "Danish" for a better heeled man "Shahwar". She left his house and started living with shahwar without a marriage contract. They went abroad and visited the whole Europe, after coming back, Mehwish asked about their marriage. Shahwar gave her an answer that we are happy like this. Marriage leads to divorce and love has no divorce. The extra marital relationship was clearly showed in the Drama but here I will only focus on Divorce case which is increasing day by day and media has a great role in changing attitudes of people towards Divorce.
The story is very interesting which shows Class system, Gender identity, extra marital relations, Divorce, child custody etc. Through Sociological lens, we can look for relationships between the micro (individual aspects of social life) and marco (large-scale groups, relationships, and trends) to recommend ways to address the trends and problems that arise in our society. The recognition of these social structures and forces shape a person's beliefs, values, norms, and expectations. These forces influence our experiences, interactions with others, and ultimately, the outcomes of our lives. The problem is most people remain unaware of how social structures affect them; they are likely to recognize these forces while taking a critical look at society.
According to Marx's materialist conception of history, human societies are based upon and change in response to their mode of production of material life. The relations of production in a particular society are centered on a division of labor, where, under capitalism, the owners of capital (the bourgeoisie) live by exploiting the labor of others (the proletariat). Both Marx and Engels appear to regard marriage as being an expression of such a class struggle. In the drama, they showed the patriarchal unit in which Mehwish was a home maker and Danish was the bread winner, she was not supposed to go outside without the permission of her husband. In the industrial age where women have the opportunity to work outside the home, they are faced with another dichotomy: If they have to participate in public production by joining the labor force they cannot fulfill their duties at home; but if they remain at home, they are deprived of the possibility of earning their own living independent of men. Same case was with Mehwish, when she started her job, it was difficult for her to cook the food and serve her family. The Marxist conflict theory sees marriage as a result of the human relationships that develop as a result of economic structures, while functionalists perceive marriage and the family as institutions whose preservation is vital for the maintenance and reproduction of society. The functionalist perspective views society as interrelated structures, such as social institutions, that have specific functions that work together by means of consensus to allow society to operate properly and to reproduce itself successfully. If one of the parts is not working correctly, the organism will find a way to fix it so that the whole is able to return to equilibrium. Thus, if there are behaviors that are perceived as upsetting the balance of the social structure, the society will find a way, based on shared norms and values, to discourage or eliminate it.
Similarly, if we look to the divorce case in the Drama, they have shown a divorce in a very easy way. Divorce is actually a very complex event that can be viewed from multiple perspectives. Sociological research has focused primarily on structural and life course predictors of marital disruption, such as social class, race, and age at first marriage. Psychological research, in contrast, has focused on dimensions of marital interaction, such as conflict management, or on personality characteristics, such as antisocial behavior or chronic negative effect. Divorce is one of the most often mentioned major life events and can cause major stress and turmoil for many, and a sense of relief and opportunity for personal growth for others. In the drama after divorce of Danish and Mehwish, Danish was stressed and his son was also suffering from the same turmoil and affected his school grades and he started anti social behaviors. In the next episode they will suffer more due to the case of child custody.
According to Gilani Research Foundation Survey, carried out by Gallup and Gilani Pakistan, 4 in 5 Pakistanis believe that the divorce rate has spiked in the country. A nationally representative sample of men and women representing all four provinces was asked whether they thought that divorce rates have increased or decreased in the country. According to the survey results, 78 per cent participants said that divorce rates have climbed up in the country, whereas 22 per cent said it had decreased. The survey was carried out among a sample of 1,781 men and women in rural and urban areas of the country.
Moreover, if we look at the role of the media, Pakistani media is independent body having both positive and negative effects which are affecting the society positively and negatively by showing diversified cultures from the global world. The behavior of a guy mentioned in the first paragraph has been negatively affected by the Drama. Multiple research studies recommend that Pakistani culture is being distorted by Media because of the introduction of the western culture and resultantly divorce rate has increased alarmingly from 150 to 200 cases per day. If we look to the consequences of divorce, divorce has a stigma attached with it. Society expects from its members to live in stressful units and divorce is mostly not appreciated. In Pakistan divorce mostly changes the status of a person has to face family, friends and society at the same time. Personal guilt, loneliness, sense of failure becomes more unmanageable when there are also problems like social acceptance, change in living pattern and economic problems. The stigma of divorce make difficult for a woman to remarry, and many feel it's easier to stay in an unhappy marriage than be alone. The difficulties multiply when children are involved because they do not want to visit courts for child custody. They consider divorce as the biggest decision of their life. In many women, feelings of guilt shame, resentment, anxiety and anger about the future are common. Financial crises after the divorce of husband are standing situations with most of the single women. It becomes difficult in meeting the basic needs of children such as food, clothing, and school fee. Single women are also unable to participate in community and social organization. The divorce developed explanations for their exclusion. Partners to a divorce not only split friends; they are often excluded from social interaction with the married couples.
The DRAMA is still in progress, I hope it will positively affect the lives of people. We have to look it through sociological lens and observe the characters in a positive way.
The writer is pursuing PhD in sociology, From Quaid-i-Azam University, Islamabad and can be reached at [email protected]