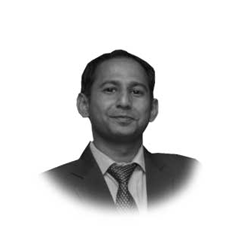 By: Samiullah Somroo
Jamshoro is an educational city of Sindh province, having three Universities (University of Sindh, Mehran University of Engineering and Technology and Liaquat University of Medical & Health Sciences) with residential area of staff/faculty members and also known as a city of intellectuals but the education in private schools and colleges is merely business for their owners. Majority of schools and colleges provide admissions more than the capacity of class rooms hence students suffer a lot with unavailability of chairs and suffocation just to "earn money" concept of owners. From admission till the leaving private schools are charging a huge fee; admission forms fee, admission fee and monthly fee. A student is provided an admission form with form fee even the candidate may not wish to get admission. Schools are charging separate annual fee, which is utilized for their own stationary and other purposes like to purchase chalks and stationery. Few schools earning fees through bank challan with excuses that this fee will be used for papers being used for students class tests. In fact the lined paper sheets are best used for class tests.  
They arrange unnecessary picnics and earn double picnic charges beyond the expenditure and if anybody ignores to attend the picnic they torture them and create problems during their exams. If parents want to take his/her kids transfer to other school or college, the administration first refuse and then after a long discussion becomes agree with huge charges. They charge minimum 500 rupees on school leaving certificate and separate for character certificate from last institute attended. They provide note books and registers with their names and logo to charge a double amount as compared to market rates. What is the purpose of providing printed note books? What is the harm of purchasing note books from market? They force to purchase from their schools. Recently, Board of intermediate and secondary education has announced a reward of Rs. 25000/- to topers of Matriculation but schools ignore to provide to the students. There are no proper sanitary measures. Majority of schools provide unfiltered drinking water to students. During load shedding the generators are used maximum for an hour even the load shedding continues for 2-3 hours. They arrange unnecessary one dish parties to collect the huge amount from students and provide only a minimum food to students for their taste. School vans are separately charged for the services of students despite of this the teachers occupy seats and allow students to stand throughout their journey to back home. One critical situation is that the teachers force the van drivers to drop them first and later to students who are paying charges for their comfort which indicates that owners of schools and colleges of Jamshoro are playing role as parasites.  Appointment of inappropriate teachers due to save money is most common in every school and college. Majority of teachers are working without specialized degrees and owners of schools prefer such teachers because they take low salaries as compare to teachers who have their regular specialized degrees in their specific subjects. How such teachers may deliver significant lectures to students without specialization in a particular subject?
Such act of appointment of inappropriate teachers and business traits of owners are destroying the future of students. To provide the quality education and minimizes the business traits of schools and colleges of Jamshoro the DEO schools and colleges, Deputy Commissioner Jamshoro and the Commissioner Hyderabad should take serious action against the owners of such schools and colleges.
The writer is Working as a Research Associate (HEC-Research Project) in department of Zoology, University of Sindh, Jamshoro. He can be reached at [email protected]