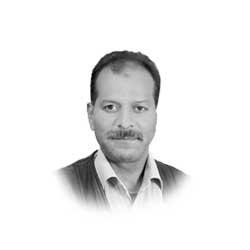 By: Asem Mustafa Awan
Finally a clear message is sent and honorable Chief Justice, Justice Gulzar Ahmed has taken the notice of the deaths at the hands of K Electric which is solely responsible for making the life miserable for the entire city during the recent rains.
The filth added with choked nullahs and continuous rain showed the capacity of the district administration. The callous and indifferent approach from officials have made people cursing them to die with electrocution as they die.
Chief Justice remarks are eye opener as there is 'no law in Karachi' and 'mafias control the city' clearly portrays how things have deteriorated and the city is abandoned.
This show the alarming state of affairs in local administration which draws salaries from the over taxed commoner of Pakistan which has nothing to take pride in.
The basic amenities as water, electricity and gas all are missing from the lives of commoners as 'mafias' operate and control these utilities which have now become luxuries for a commoner in the 'land of the pure'.
Karachi a mega cosmopolitan city which is now under radar has vomited a plethora of problems in the recent ongoing rains which has also shown the capacity of the administration.
A population that runs in millions has many a millions that are denied the right to stay alive as humans. Water the very base of life is controlled and owned by 'tanker mafia' in Karachi which has the backing of local gang leaders who are 'sponsored' by politicians. Former Chief Justice of Pakistan MianSaqibNisar vowed and is in on record to liberate Karachi from 'tanker mafia'.
His promise has stayed as an unfulfilled dream for Karachities, like so many others. Honourable Justice Amir Hani Muslim's report on 'tanker mafia' should be taken as a reference as every stakeholder in the menace has been identified.
Chief Justice, Honourable Justice Gulzar Ahmed scathing remarks said," All those dead due to electrocution should name K Electric chairman(MoonisAlvi) in their reports."
This is the story of K Electric while the as regards gas there is no pressure and cooking is next to impossible for the residents who were lucky to get 'gas meters' installed in good times but gas as promised was never there for a descent meal.
Water, electricity, gas are all long standing issues of Karachi and it is not one but 600 and more katchiabadis (slums) who have millions living in them. It is with deep regret that these humans who are far below the poverty have very little for their sustenance and sadly they are not even considered as humans.
The political graft for ensnaring the votes is the development projects by politicians who install water bores, gas lines and electricity is all paid for by the consumers in advance. These projects are the hunting grounds for the corrupt and millions are amassed by corruption and delaying the projects and the 'useless' fail to recover the loot as always.
Such is the atrocious nature of the service providers that in event of nonpayment of bills they take away the poor mans' meter. These very officials walk with fear on defaulters' grounds where millions stand to be recovered. These defaulters if denied any service makes a shooting practice of these officials who under coercion from higher ups make the supply uninterrupted.
The Independence Day 2020 after 73 years is looked by people, same age as that of Pakistan believe the time is changing but not all is good but some good is happening.
The commoner who has lived a life of misery and died in misery may get some relief as per government projected slogans. The relief as projected is nowhere in near sight, flour, sugar and every household consumer item is out of commoner's reach.
The pending inquiries in court when solved will have the commoner going in grave six feet under and may be government by that time would be successful in lowering the consumer items and people on the funeral may get subsidized roti (flour) or tea for that matter.
The masses feverishly appealed to Honourable Chief Justice since the provision of electricity from K Electric is not there but the compliance to the bill is mandatory there should be a probe in this as well.
Overbilling, theft and everything unlawful happens under the sky and nothing happens while the poor pay the price.
The cruel and insane electric rates are the biggest bone of contention as they are altered after every 100 units. Masses are off the opinion that death by electrocution is done deliberately from K Electric as it never complied to SOP's (Standard Operating Procedures) in installation of electric poles.
The 'earth wire' Chief Justice mentioned in his remarks is not there which serves as breaker if high voltage surge get in. The procedure for implanting these electric poles is followed by a bore in the ground in which copper/ silver wire is placed. Sadly this has never been the case in most of the electric poles that are installed nationwide. The cancerous corruption takes its toll and is prevailing everywhere.
How many people have died the count is more what is reported and last but not the least the Sheikhupura electrocution in which grandmother along with three grandsons died in their sleep. How did it happen? Who is responsible? The world doesn't see or report these incidents as this only happens in Pakistan.
The video of an electrician getting electrocuted is also available on social media where villagers are trying to get the body released using wooden sticks. The sad part is the dead body all burned up was emitting sparks.
Such is the life of people who are faced with death, disease and hunger and have no respite from anywhere.These are regular happenings and sadly they have no impact on the policy makers and none of them is ever faced with a mishap like getting electrocuted.
It is but commoners who are met with this fate and they die like bugs. A simple dust storm makes electricity vanish and rain storm results in 'feeders' getting tripped.
All these questions are there and there are no answers.May in another 73 years there will be answers and Pakistan will be corruption free. A day dream that keeps nation alive which open eyes and mind shut.
The writer is a special correspondent at The Dayspring