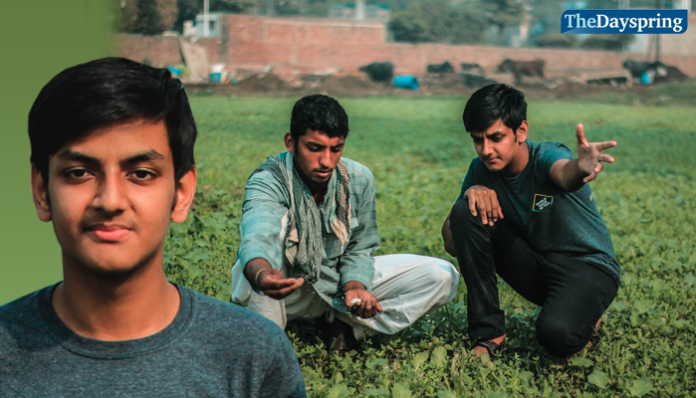 Hasham Tanveer is a young science enthusiast and social entrepreneur. Hailing from a humble background and a community where he has witnessed people giving up on their hopes because of poverty and impoverished livelihoods, Hasham decided not to give up and with a sheer determination and hard work he succeeded to pave hopes way through primary school to middle and then high school. Against all odds, he was able to educate himself and during his journey, he discovered his passion which is to "Do science for the betterment of mankind".
While studying in the 11th grade Hasham identified a problem that has plagued the poor farmers in his ancestral village; the shortage of agricultural water which in turn leads to the shortage of food as the water scarcity renders the arable land useless. While working with scientists at his college Hasham did iterative experimentation and made a super-absorbent-particle which can conserve the water up to 70% of what is required in the conventional practices which means that using this particle the farmers can grow more food while using less water.
After pilot testing and realizing the potential of this simple solution to alleviate the problems of water scarcity and food insecurity, Hasham with his co-founder Hassan Sohail went on and founded thier startup (social enterprise) "Solvify" with a mission to make the solution even better with continuous research and development and democratizing it to reach as many farmers as possible in a short period of time. Hasham along with his team has presented his social enterprise at the Diamond Challenge, University of Delaware, USA and won the first prize in the competition and with the prize grant "Solvify" went on to reach out to more than 150 poor farmer families to help them to grow more with a less amount of water.
According to Hasham "My success in the competition at the University of Delaware is dedicated to the farmers of my country who work hard under the scorching sun so that people like us can have food, I want to expand 'Solvify' to reach the impoverished and downtrodden of my society, I am excited and very hopeful that with the help of like-minded people and with the support of institutions soon we will be able to tackle the problem of water scarcity and global food insecurity, by democratizing this solution."
For his efforts, Hasham has now been selected as one of the 32 Global Teen Leaders from all around the to present his social enterprise Solvify and his country on a global platform of the Just Peace Summit in New York City to take on board some of the best mentors who can help him take his initiative even further and impact billions of people.
  Hassan Sohail (other co-founder) 
A kid with a love for science in a country full of problems; that's where it all began. It was back in 2016 in Karachi that there was severe water shortage, with no water being supplied to my home for around 2 weeks. This was the pivotal incident; the short exposure to this huge problem of water scarcity had triggered in me the drive to go about solving it. It took some time before I narrowed down my focus on improving agricultural irrigation due to its extreme inefficiency in conventional methods. As it is with all startups, it is a team effort. Through mutual contacts and interests, Hasham – my co-founder – and I met, who was interestingly trying to tackle the same issue of water scarcity. We decided to put our heads together to come up with a solution. And thus, Solvify, initially named Aab-e-Hayaat was realized. Fast forward a year later and we had a working prototype for our biodegradable superabsorbent polymer. Near the end of 2017, we got to know about the Diamond Challenge; a high school entrepreneurship competition hosted by the University of Delaware in DE, USA. We had submitted our write-ups and pitch decks reluctantly, unsure of what might unfold. We were hyped after qualifying for the regional finals of the competition hosted by NIC Islamabad, but the first major hurdle came after winning the regional finals; we did not have enough money to buy tickets and travel to the finals in USA. And that was when my teachers from St. Patrick's High School stepped in, with the administration and the teachers pitching in to collect funds for my travel expenses, and I will always be grateful for that. The second hurdle came in the form of visa application process, as I barely made through it with a one month visa to attend the competition. We were finally there, the first Pakistanis to make it to the semi-finals, and the first Pakistanis to go on and win the grand finals.
                                   Objective
Our ultimate goal is to expand globally to impact people all around the world.
Right now, we are doing our pilot project and after this we will be commercializing Solvify to make an impact on 1 million poor farmer families ,save 100 trillion litres of water, increase crop production for more than 1 billion starving people, while eradicating the challenges of water scarcity and global food insecurity.