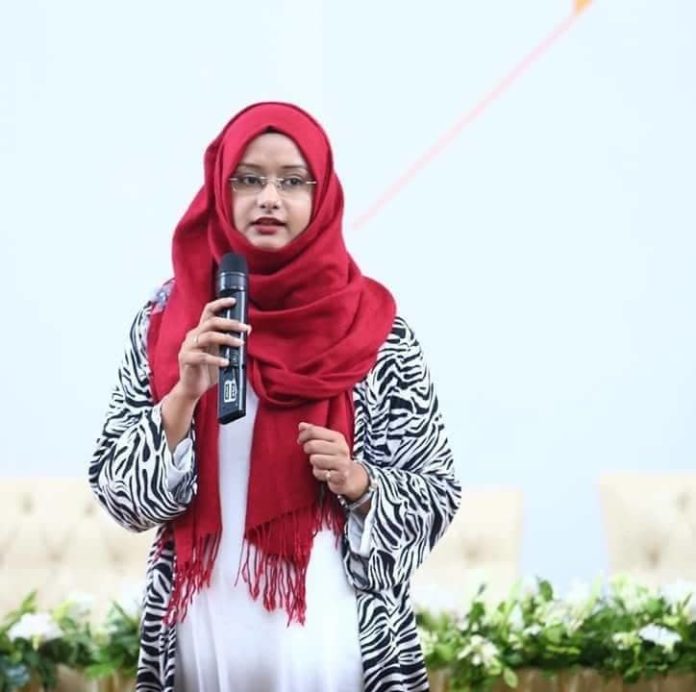 Anum Kamran, is one of those woman entrepreneurs who undid all the negative social conditioning and kept climbing the ladder which eventually opened the door of success for her. She proved to be a woman with entrepreneurial aspirations who made herself heard.
Anum Kamran is an enthusiast entrepreneur; she has dedicated herself to empower society with the use of technology and provided the society with projects like Apex Solutions (web solution provider), World Auto Source (B2B), Buyon.pk (A fastest growing online shopping marketplace in Pakistan) and Shelance.pk (Pakistan's First Women Only Freelancing Portal). Her volunteer work for the technological environment is worth mentioning with ventures as IEEE and WIE. This ambitious lady has been teaching as visiting faculty. While being a high achiever and maverick herself, Anum Kamran is one of those rare people who combines exceptional professionalism with warmth and humility and with that she wants other women to get motivated.
She is helping and consulting other woman entrepreneurs/startups to embrace with the possibilities of working without compromising primary responsibilities. For that she is conducting sessions about women empowerment, entrepreneurship, leadership etc.
Do you think Online Shopping is a better option than Traditional Shopping? Does it facilitates the customers?
Online shopping is undoubtedly a better option for a customer, it saves a lot of resources including time, money and energy. It can facilitate any kind of customer specially those who due to any reason having difficulty in mobility they can get any thing at their place without hassle.
What are the challenges facing by E-Commerce Industry in Pakistan and how it could be overwhelm?
Logistics is the first and foremost challenge ecommerce industry in Pakistan is facing. Secondly digital payments penetration. Logistics needs to be improved in order to automate most of their processes, they need to be efficient enough to cater the ever increasing demand of ecommerce.

For digital payments penetration, Fintech companies need to work on the areas other than KLI, for example buyon.pk is catering specially tier 2 and tier 3 cities and towns of Pakistan and people there are not much aware of the digital payments. They have smart phones, they have broadband connection, what they lack is information and knowledge.
What is the customers perception about Online Shopping in Pakistan? Is Online Shopping Trend increasing?
Customers perceptions are varying customer to customer, there are people who prefer online shopping over offline but there are people who still lack trust on online shopping. Overall industry figures shows that the trend is increasing enormously and will further rise once the logistics and payments issues will be resolved.
We have often seen fraud by E-Commerce Store. Customers often did not receive what they order or they receive low quality product. It is losing customers trust on Online Stores. How this issue would be tackled?
 Yes there are certain examples of frauds being conducted by e-commerce websites and Facebook pages in Pakistan recently however not all E-Commerce players are fraud and encourage such practicesUnfortunately there is no control on online selling through Facebook or website which enables fraudsters to use internet to conduct fraud in the name of e-commerce.

This is a global phenomena and Pakistan is also part of this larger issue buyon.pk as a Marketplace encourages and instruct its sellers 2 add real images with products in their catalogue and deliver the same to customer.
We also safeguard the interest of our customers by offering a 7-day refund policy and buyon.pk insurers that either refund or replacements should be sent to customers on time in case of any complaints.
Is the evolution of E-Commerce changing Customer Behavior in the market?
E-commerce is relatively new business medium especially in a third world country like Pakistan,  e-commerce facilitator  and customer both are learning the way forward
Recently we observed that customers who tend to buy online are getting experienced day by day and they only trust certain credible platforms which can protect their rights as an online shopper.
Customers are also keeping themselves destined from unrealistic offers and fake discounts
Where do you see the E-Commerce Industry in the coming years? Does it has potential of growth in the future?
Without a doubt E-Commerce industry is growing and it is destined 2 become one of the major economical milestone in coming years. It was estimated that E-Commerce industry in Pakistan will reach 1 billion dollar landmark by year 2020. But stats of the first two quarters showing that this 1 billion dollar mark can be achieved in year 2018-19 only. And this will not be slowing in any case there are foreign Investments new fin techs and other foreign collaborations car signed in past few months